Secondary Navigation
Biomedical Technology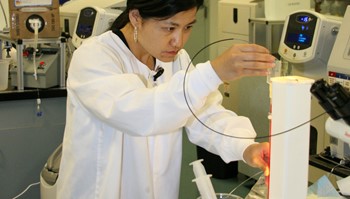 Program Information
The Biomedical (BMED) Technology one-year certificate program prepares students for entry-level positions in the biomedical device and products industry. Graduates will work in manufacturing, product development and testing. Many of the courses transfer to four-year institutions. Classes include specific biomedical coursework, as well as writing, statistics, and a field experience with a biomedical company. For additional information about our biomedical programs, visit our website at: http://www.anokaramsey.edu/BMED
General Information
College-level competence in English, writing, mathematics, and computer competency should be acquired before entering the BMED programs. All BMED program requirements are offered at the Coon Rapids campus.
Developmental Courses
Some students may need preparatory courses in the areas of English, mathematics or reading. Courses numbered below 1000 will not apply toward this degree.
By completing this program, students will achieve the following learning goals:

Demonstrate an understanding of trends, size, and scope of the medical device industry.
Demonstrate proficiency in oral and written communication, interpersonal skills, and critical thinking/problem solving.
Demonstrate an understanding of the processes involved in the design, development and manufacture of medical devices.
Demonstrate knowledge of various regulations and agencies involved in regulatory processes specific to the medical device industry.
Demonstrate application of classroom knowledge to industry field experience.

A minimum of 12 semester credits in courses numbered 1000 or above must be completed at ARCC.
A minimum cumulative grade point average (GPA) of 2.0 in courses numbered 1000 or above at ARCC.
A minimum grade of C must be earned in all program requirements.
All program requirements must be completed at ARCC.
All courses requirements must be complete before a certificate will be awarded.
To complete your program, please submit the appropriate application found here.
The requirements of this program are subject to change without notice.

 

NOTE: You are encouraged to contact an academic advisor at 763-433-1230 for course planning assistance and information about transfer credit evaluation and transfer options.

13 credits 

BMED 1100
Introduction to Biomedical Devices and Industry
2
BMED 2100
Design and Manufacturing in the Medical Device Industry
3
BMED 2200
Introduction to Medical Device Regulations and Ethics
3
BMED 2300
Introduction to Quality Assurance
3
BMED 2260
Fundamentals of Dimensional Metrology
2

                           10-11 credits

CMST 1110 OR 

CMST

2215 OR

CMST 

2220
 3
ENGL 1104 OR ENGL 1120* OR ENGL 1121*
3-4
MATH 1114*
4

                            6 credits

BIOL 1102
Medical Terminology
2
BIOL 1104
The Human Body-Structure and Function
4

The sequence that follows is suggested for full-time students. Part-time students will need more time to complete this program; many courses are offered in the evening.

FIRST YEAR
Fall Semester 
Spring Semester 
BIOL 1100
2
BIOL 1102
2 
BMED 2300
3
 BMED 2200
3
BIOL 1104
4
 BMED 2600
 2
BMED 2100
 3
MATH 1114 
4
ENGL 1104
OR ENGL 1120*
OR ENGL 1121*
3-4
CMST 1110
OR CMST 2215
OR CMST 2220
3
 TOTAL
15-16
TOTAL  
14

*Some occupations may require advanced education

Applications Engineering Technician
Biomedical Engineering Technician
Biomedical Equipment Specialist
Calibration Technician
Clinical Research Coordinator
Clinical Research Specialist
Equipment Maintenance Technician
Field Service Technician
Manufacturing Technician
Medical Device Lab Technician
Medical Equipment Repairer
Production Technician
Quality Assurance Specialist
Quality Inspector
Quality Technician
Supplementary Information
Program Credits

| | |
| --- | --- |
| Program Requirements | 13 |
| General Education/MnTC | 10-11 |
| Additional Requirements | 6 |
| Total | 29-30 |

Important Links

Ask Anoka-Ramsey

Contacts

Non-Credit Certificates

For continuing education and customized training (non-credit) courses, visit ProWorkTraining.com.