Cost & Aid

Take advantage of the lowest college tuition in Minnesota
How Much Will College Cost?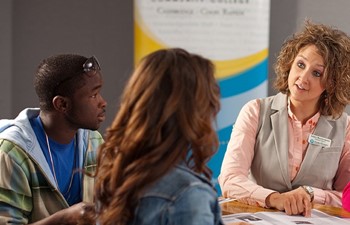 Over half of Anoka-Ramsey students receive grants or scholarships. You could be one of them!

Learn more about the many ways to cover the costs of tuition, fees and books, including:
*Counting on financial aid to help cover tuition costs? Apply early! You can submit your FAFSA form even before you've been accepted for admission – and that will improve your chances of getting aid on time to register for classes. Contact us if you need help completing your FAFSA.
Financial Aid: 763-433-1500
Business Office: 763-433-1600
Scholarship Office: 763-433-1130
Meet Our Students and Alumni
Student Carousel
Carousel Navigation
Carousel Slides
Meet Mikhail Morrison

Mikhail Morrison

Allied Health & Nursing

AS Exercise Science

"The instructors who teach in the Exercise Science program are the best. They make the learning experience fun and simple to understand, and they're always available to help, even if it is not directly related to the program."

Meet Samantha Rosemeir

Samantha Rosemeir

Arts & Communication

AFA Music

"What I appreciate the most about Anoka-Ramsey are the advisors, counselors, instructors and tutors, and especially the math tutors. They care about you as an individual, and are always willing to help."

Meet Tyler Leng

Tyler Leng

Allied Health & Nursing

Pharmacy Technician

"Beyond the great price, the exceptional teaching abilities of the faculty is the best aspect of Anoka-Ramsey, To have these professionals in the respective fields be so engaged is stupendous."
Carousel Pagination