Graphic Novelist Jason Walz next guest for Minnesota Writers Series at Anoka-Ramsey Community College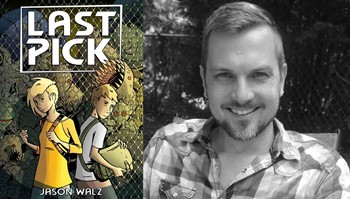 March 11, 2019
Anoka-Ramsey Community College is celebrating the 31st Minnesota Writers Series on Thursday, April 25, 2019 with an appearance from graphic novelist, Jason Walz. Walz will be discussing the first volume of his dystopian graphic novel trilogy, Last Pick.
The Minnesota Writers Series gives guests the opportunity to hear first-hand from writers about their work and creative process.  Over the years, the event has featured some of Minnesota's most exciting and accomplished writers. The campus provides an intimate setting for writers to read and discuss their work, take questions from the audience and sign books following the program.
"Last year the Minnesota Writers Series on the Cambridge Campus celebrated its 30th year of bringing some of the brightest lights on the state's literary landscape to the East Central Region. This year, we're excited to mix it up a bit by featuring graphic novelist Jason Walz," said William Breen, a member of Anoka-Ramsey's English Department. "Walz's Last Pick combines some amazing artwork with a gripping storyline and compelling characters. We look forward to seeing him showcase his work and discuss his creative process."
Event Details:
31st annual Minnesota Writers Series: Jason Walz, Last Pick
Thursday, April 25, 2019 | Noon
Anoka-Ramsey Community College's Cambridge Campus
Rm G202
This event is free and open to the public.
For more information about Jason Walz and his work, visit: Jasonwwalz.com
Supplementary Information
Recent News

Anoka-Ramsey In The News

Contact Us

Marketing & Public Relations

Media Relations Contacts: Mary Jacobson & Fia Prpic