Profile - Thomas Hanson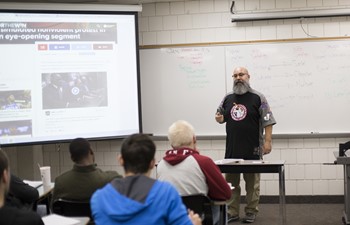 Instructor Profile
Meet Thomas Hanson
Instructor of Sociology
Master of Arts (MA) in Sociology, University of Minnesota; Bachelor of Arts (BA) in Sociology and in Liberal Arts for the Human Services, University of Minnesota Morris.
Question and Answer
Question

Would you list some recent accomplishments?

Answer

Most Honored Faculty member, 2011.

Fellowship for Minority Students, University of Minnesota.

Question

What is your approach to teaching?

Answer

Sociology is about "seeing" one's self in social context. It is about understanding any individual's chances are largely caught up in the chances of all those who share their circumstances (C. Wright Mills). My idea of how to teach sociology and how to "see" the world in sociological terms is to expose my students to information and ideas that expose them to things to "see" the everyday world, from macro to micro so that they come to "understand" that world. To teach and to learn with sociology is to see and understand more fully.

Question

What inspires you as a teacher?

Answer

I am inspired by the student who comes to realize that they not only can, but begin to apply sociology not just to being a student, but to being a person. I have been inspired by W.E.B. DuBois, Erving Goffman, Jonathan Kozol, Cornell West, my undergraduate advisor, Vicky Demos and many more for their capacity to help me and to add a window to social life, especially along lines of race, class and gender.

Question

How would you describe what happens during one of your most successful classes?

Answer

Students begin to say, "but if that's the case, ___ is got to be the next important thing..." and I tell them, that is EXACTLY what we will discuss NEXT! Or... they come up after class and say, "so, now that it was discussed in class, I'm thinking that reading for the quiz is all about ___." It tells me that what wasn't yet connected IS NOW connected for them, and THEY not only connected it but REALIZED they had connected it and wanted to talk about it.

Question

What makes your curriculum interesting or valuable to students?

Answer

As much as possible, I tell my stories of everyday life to open up how sociology functions, and I welcome them to see in their own stories or to SHARE their own stories to make similar connections. It's important that in all the everyday examples I choose to use and apply that they see that while sociology can go beyond their immediate lives, it is still the context for their immediate lives. I'm sure I cover CULTURAL concepts and examples and their application to understanding everyday life and even differences among people in a way that stands out to students.

Question

How do you think students describe your teaching methods and classes?

Answer

I would suppose my sense of doing more PROFESSING as part of teaching than strictly focusing on TEACHING sociology would stand out. I provide outlines each class. I provide outlines of topics for every unit. I provide reading material I may or may not link to class but would have it's own assignments for them to apply or be quizzed upon. But they would find that I expect them to take the important step to synthesize all these elements on their own accord. In that regard, the final job of teaching is their own.

Question

What are some ways that you help students succeed when they need extra help?

Answer

I am always willing to talk after class and in my office whether it be about the subject matter, keeping up, making changes or how life or the class content is affecting them. I often discuss WHAT they can do to improve (by keeping it focused on the most basic but important steps) and I ask them to discuss if they've met progress. I like to look into their situations and suggest some kind of "truth" about expectations that are reasonable as well.

Question

How do you help your students get the most out of your class?

Answer

Everything is connected: simple, small assignments (and their point value), extra credit assignments, application assignments that get them to go further and coming to class to hear and let things sink in. I often remind the class how their participation in the basic process and their revisiting an awareness of how things are all connected is the difference between learning some sociology and "seeing" things with sociology. Similar to learning some language and the ability to begin to understand and comprehend and think in a language.
Fun Facts
Fun Fact #1

I taught myself to play blues harmonica and currently own 17 harmonicas, none identical.

Fun Fact #2

I see humor, oddity and the like ALL THE TIME. But you'd have to ask me what I was seeing and the humor in it to know as I often don't let on. I think life is funny (even though I can seem terribly serious and take things very seriously).

Fun Fact #3

I once wrote a graduate school paper on how the settings in various "gyms" (workout facilities) by TYPE affected who felt comfortable there, who were the showoffs and preening types, and who were serious workout folks over the many years of my own fairly serious weight training.

I also once wrote a graduate school paper on how pickup basketball varied in Minneapolis city parks based on the differences in social class and ethnicity of who was the dominant group in the given neighborhood by going to play in three different parks.
Meet Our Students and Alumni
Student Carousel
Carousel Navigation
Carousel Slides
Meet Behram Radmanesh

Behram Radmanesh

MnTC

Associate in Arts

"Anoka-Ramsey was affordable, had good resources and excellent professors. Be sure to make use of the tutoring center!"

Meet Bukola Oriola

Bukola Oriola

MnTC

Associate in Arts

"The advisors and counselors were very useful to me. The Tutoring Center was also a tremendous help. As a tutor at the Cambridge Campus, I enjoyed the warmth and support of the center as I helped other students to succeed in their writing."

Meet Cody Laberda

Cody Laberda

MnTC

Associate in Arts

"AR was a great place to start for me. They offered great art classes, which was something I was seriously considering after high school. Also, the year I started was the first year they formed a men's collegiate soccer team/program, so I tried out and made the team.

Anoka-Ramsey offers opportunity; opportunity with the best-looking community college and location in the state.

My experience in the Multicultural Club was awesome. There were so many students I met from all over the world. It was amazing. I thoroughly enjoyed the club as well as the many field trips we took including the one at the convention center, Festival of Nations."
Carousel Pagination