Physical Therapist Assistant Department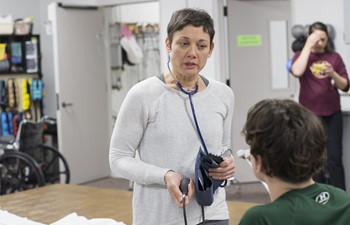 Physical Therapist Assistant Department
The Physical Therapist Assistant (PTA) program is a two-year program that prepares students to work under the supervision of a physical therapist as a PTA in a variety of rehabilitation settings. 
Meet Lisa Lentner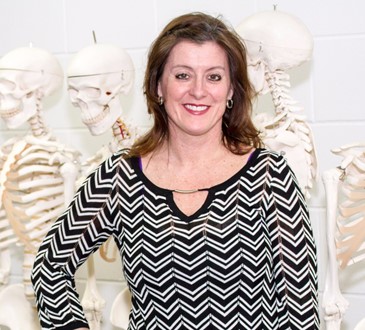 Meet Lisa Lentner
Instructor of PTA
Meet Vinny Morocco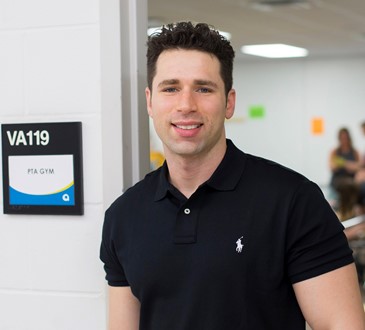 Meet Vinny Morocco
PTA program
Degrees & Certificates We Offer
Courses offered range from anatomy, medical terminology and advanced physical therapy techniques. Students also gain hands-on clinical experience at three different healthcare facilities.
The department offers one degree:
The Physical Therapist Assistant program is located in the Visual Arts Building. The lecture and lab rooms all have internet access, projectors and seating for 32 students.

The labs have up-to-date therapy equipment including modalities such as ultrasound, electrical stimulation, combination units, spinal traction, and various heating and cooling agents.

There is also a wide variety of exercise equipment and assistive devices. Students also go to the Health and Wellness Center for specific labs.


The types of setting that a PTA can work in under the supervision of a physical therapist are hospitals, outpatient clinics, skilled nursing facilities, home care therapy, and the school system. Areas of specialty in physical therapy are orthopedics, neurological rehab, pediatrics, geriatrics, pool therapy, manual therapy and sports rehabilitation.

Upon successful completion of the PTA program, graduates must pass the National Physical Therapy Licensing Exam (NPTE).

Our graduates have been very successful on the PTA National licensing exam (NPTE).

A score of 600 is required to pass the licensing exam. As you can see in the data below, Ultimate Licensure Exam Pass Rate for students in our program for the past two years has been 100%.

 

2-year Average for PTA Graduates in 2020 and 2021

Graduation Rate

91%

Ultimate Licensure Exam Pass Rate

97.9%

Employment Rate

94%

 

PTA Class of 2020

Graduation Rate

93%

Licensure Exam First-attempt Pass Rate

100%

Ultimate Licensure Exam Pass Rate

100%

Employment Rate

96%

 

PTA Class of 2021

Graduation Rate

88%

Licensure Exam First-attempt Pass Rate

85.7%

Ultimate Licensure Exam Pass Rate

95.2%

Employment Rate

92%

 


Scale Scores of 600 and above are passing.

 

The Physical Therapist Assistant Program at Anoka Ramsey Community College is accredited by the Commission on Accreditation in Physical Therapy Education (CAPTE), 3030 Potomac Ave., Suite 100, Alexandria, Virginia 22305-3085; telephone: 703-706-3245; email: accreditation@apta.org; website: http://www.capteonline.org.

If needing to contact the program/institution directly, please call 763-433-1293 or email Lisa.Lentner@anokaramsey.edu.

The Commission on Accreditation in Physical Therapy Education (CAPTE)
3030 Potomac Ave., Suite 100
Alexandria, Virginia 22305-3085
703-684-2782
accreditation@apta.org
capteonline.org

 

 

By completing this program, students will achieve the following learning goals:

Demonstrate competent written and electronic documentation skills, and oral communication skills.
Perform all treatment procedures skillfully and safely, including modalities, massage, manual skills, gait training, and data collection for the physical therapist to use for assessment purposes.
Demonstrate knowledge of the normal structure and function of the human body and understand the physiological and psychological effects of disease and injury.
Demonstrate understanding of their professional role as a PTA and demonstrate awareness of ethical behavior, legal responsibility, and the PT/PTA professional relationship.
Recognize and appreciate diversity within society and the health care profession.
Successfully pass the PTA licensure exam and begin practice as an entry-level physical therapist assistant.



Graduates will acquire the following skills, knowledge, and abilities and perform them under the direction and supervision of the physical therapist: 

Basic patient handling and physical therapy skills: Documentation, body mechanics, posture education, joint range of motion, vital signs, ambulation with assistive devices, wheelchair operations, bed mobility, transfer training, edema control, and wound care.  

Modalities and massage skills:  heat and cold techniques, aquatic therapy, ultrasound, LASER, diathermy, electrical muscle stimulation, TENS, compression, traction, soft tissue mobilization and massage techniques. 

Therapeutic Exercise: Develop appropriate exercise programs based on the Plan of Care established by the physical therapist, instruct patient in exercise, and progress exercises appropriately.  

Injury and disease and pathological conditions:  Performing specific treatment techniques recommended by the PT for hemiplegia, spinal cord injury, multiple sclerosis, traumatic brain injury, Parkinson's disease, cerebral palsy and other neuropathic diseases of patients. 

Specialty areas of physical therapy: working with amputees, orthotics and prosthetics, pediatrics and geriatrics, cardiac and pulmonary rehabilitation, manual techniques, burn management, pharmacology, arthritis, oncology, women's health/pelvic floor dysfunction, chronic pain, musculoskeletal disorders and industrial medicine programs. 

Tests and measures: goniometry, vital signs, manual muscle testing, circumferential, gait training, soft tissue mobilization, objective balance assessment, and special tests for specific musculoskeletal disorders to aid with treatment progression.  

Use inclusive language and provide unbiased care throughout the treatment session 

Meeting each of these program goals is determined through the student's successful completion of each required PTA technical course with a grade of "C" or better, a Pass grade for clinical courses. Specific assessment criteria and learner outcomes are found in individual course syllabi. 

A complaint from an individual who has no standing within Anoka Ramsey Community College, such as a prospective student, employer of a graduate from the PTA program, a clinical education site and/or its patients, a volunteer for the ARCC physical therapy clinic, or the general public should be submitted to the PTA Program Director via email (lisa.lentner@anokaramsey.edu ). The program director will review the complaint and determine if other parties, such as college administration, need to be involved. The program director will respond to the complaint within 14 days of receiving the initial email.   

 
Applications are accepted Feb. 1 to Feb. 28 for the following fall semester start date.
Meet Our Students and Alumni
Student Carousel
Carousel Navigation
Carousel Slides
Meet Flutra Arifi

Flutra Arifi

Arts & Communication

AA Sociology

Anoka-Ramsey was convenient and affordable all in one!

Meet Cyril Dela Cruz

Cyril Dela Cruz

Arts & Communication

AFA Music

There are crazy awesome connections and great resources here at Anoka-Ramsey. You also develop character learning about the world and your major.

Meet Brittany Ybarra

Brittany Ybarra

Allied Health & Nursing

Nursing

One of my favorite aspects of Anoka Ramsey is how flexible the campus is. All of my instructors and professors are so inclusive and understanding of students with children, students working, and just students of all ages and backgrounds.
Carousel Pagination