Profile - Lisa Lentner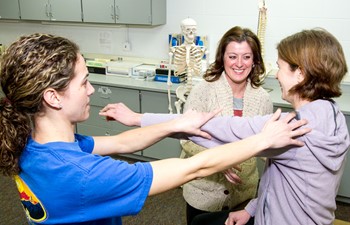 Instructor Profile
Meet Lisa Lentner
Instructor of PTA
Master of Physical Therapy (MPT), College of St. Scholastica; Bachelor of Science (BS) in Physical Science, College of St. Scholastica
Question and Answer
Question

Tell us about the Scholarship of Teaching and Learning (SoTL) program

Answer

In the spring 2017 I conducted a research study titled "The impact of video feedback on PTA students' professional behaviors and clinical skills" as part of the p) Program at Anoka-Ramsey. First year PTA students who participated in the study were videotaped during two lab skills tests and then completed a reflection form after watching the video. Students ranked their professional behaviors on a 1-5 scale using anchor definitions based on the Clinical Performance Instrument (CPI) and made comments about their performance. These results were compared to the assessment of professional behaviors by their clinical instructor during an eight week clinical in the summer of 2017. I am expanding the study with many of the same students and some additional students during their second year of the PTA Program in the fall semester 2017. Students are again videotaped during skills tests, completing reflection forms and assessing their professional behaviors. These results will also be compared to their second eight week clinical in the spring 2018.

Being part of the SoTL program has been very rewarding. I am discovering answers to important research questions that will impact the success of the PTA students in our program. I feel so fortunate to be working with Catherine Ford the other instructors in my SoTL cohort. We learn from each other and support each other through this research experience.

Question

Would you list some recent accomplishments?

Answer

Awards:

Minnesota State Colleges & Universities Board of Trustees' Award for Excellence in Teaching 2014

Publications:

"How Frequency of Feedback Affects Motor Learning in Post-stroke, Hemiplegic Adults" Physical Therapy. 1993.

Question

What is your approach to teaching?

Answer

There are three components to my teaching philosophy. The first is that the key to learning is the student's ability to organize information. I provide my students with multiple strategies to help them be successful with organization. The second component is my responsibility to meet the needs of the different types of learning styles of the students in our PTA program. I make an effort to determine what type of learners I have in my classes and design learning activities that meet their various needs. Lastly, the class has to be enjoyable. I plan fun, interactive learning activities, and assignments that are creative and meet the needs of those "Innovative," "Feeling," and "Doing" learners.

Question

What inspires you as a teacher?

Answer

My students inspire me. In the past few years, the average age of our PTA cohorts have been around 28 years old. In most classes, I have students that range in age from 18 to 50, from all different walks of life, with various ethnic backgrounds and life experiences. I have learned so much from my students over the years. It amazes me how so many of them are able to work full-time, manage their personal life and do well in the challenging classes in our curriculum. Because we have a two-year program, I get to know the students very well. They share many of their life experiences with me, such as weddings, babies, and deaths in the family. I have high expectations for all of our students, and their accomplishments continually amaze me.

Question

What makes your curriculum interesting or valuable to students?

Answer

When students graduate from the Physical Therapist Assistant (PTA) program, they will be prepared to take the National Licensing Exam for PTA, and when they pass, they will be able to work as a licensed PTA. Everything in our curriculum is valuable because it is what students need to know to be a competent and successful PTA. The curriculum consists of lecture and lab courses and two clinical experiences (each 8 weeks long) in which the students are working in a clinical setting with actual patients under the supervision of their clinical instructor. Our students have the opportunity to do undergraduate research and treat patients in the ARCC PTA Clinic.

Question

What are some ways that you help students succeed when they need extra help?

Answer

I firmly believe that when students are putting time and effort into my classes but are still at risk of failing academically, I have a responsibility to give them strategies to help them be more successful. One strategy that works well is to teach the students to use "Thinking Maps" to organize the information that they are learning. I design assignments where students worked with partners to create "Thinking Maps" and 3-dimensional models that they present to the class as part of a review for an exam. This is interactive and effective for visual and "Doing" learners.
Fun Facts
Fun Fact #1

I am married and have three children. I have worked in multiple physical therapy settings, such as neurorehabilitation, skilled nursing facility, outpatient clinic, and I currently work in home health care. My specialty area is neuro rehab.

Fun Fact #2

Health and wellness are very important to me. I enjoy traveling, reading, yoga, running, and spending time with my family.

Fun Fact #3

I give my students stickers at the end of each week to show appreciation for their efforts, participation, and contributions to the class that week and to celebrate the end of another week!
Meet Our Students and Alumni
Student Carousel
Carousel Navigation
Carousel Slides
Meet Flutra Arifi

Flutra Arifi

Arts & Communication

AA Sociology

Anoka-Ramsey was convenient and affordable all in one!

Meet Cyril Dela Cruz

Cyril Dela Cruz

Arts & Communication

AFA Music

There are crazy awesome connections and great resources here at Anoka-Ramsey. You also develop character learning about the world and your major.

Meet Brittany Ybarra

Brittany Ybarra

Allied Health & Nursing

Nursing

One of my favorite aspects of Anoka Ramsey is how flexible the campus is. All of my instructors and professors are so inclusive and understanding of students with children, students working, and just students of all ages and backgrounds.
Carousel Pagination