Profile - Connor Schroeder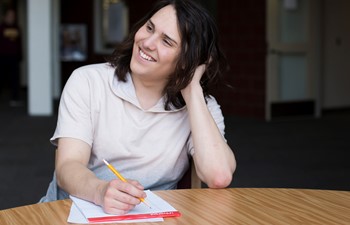 Student Profile
Meet Connor Schroeder
Creative Writing program
Question and Answer
Question

Why did you choose Anoka-Ramsey Community College?

Answer

As an inexpensive and welcoming place, Anoka Ramsey was a great place to explore different types of undergraduate classes until I decided on my degree.

Question

Name one of the best aspects of Anoka-Ramsey.

Answer

The faculty and staff are caring, and they take an interest in my success as a student as well as a person. They're helpful, encouraging and approachable.

Question

What would you say to a person considering attending Anoka-Ramsey?

Answer

It's an excellent place to discover your major! There's this stigma around community colleges, but since I'm getting my associate's degree for around $5,000, and meeting new friends while I do it, I think that's a stigma I can live with.

Question

What is one thing you would like people to know about the Creative Writing program?

Answer

With instructors dedicated to your growth and exploration as a writer, Anoka-Ramsey's Creative Writing program excels at introducing you to the Twin Cities writing scene while growing your abilities as a writer.
Fun Facts
Fast Fact #1

Connor is the first in his family to attend college.

Fast Fact #2

Connor's dream job would be as a screenwriter for A-list movies.
Meet Our Students and Alumni
Student Carousel
Carousel Navigation
Carousel Slides
Meet Joshua Chase

Joshua Chase

Arts & Communication

Creative Writing

"The teachers are, hands down, the best part of Anoka-Ramsey. I've always read a lot, but while at Anoka-Ramsey, I had teachers who gave me entirely new perspectives on the writers and works I was already interested in. I always knew I liked certain authors, but couldn't really put my finger on why. After my time at Anoka-Ramsey, I had a much better understanding.

I spent a lot of time in the advising office. Having transferred many of my credits from a community college in Nevada, I wasn't really sure how to proceed in a new state with different graduation requirements."

Meet Jamie Haddox

Jamie Haddox

Arts & Communication

AA Creative Writing Emphasis

"Having taken creative writing classes at Anoka- Ramsey, I can honestly say that talent alone isn't enough, no matter how talented. There's so much I didn't know. I've also learned that part of writing is having a network. You'll never meet half the people you should without going to school."

Meet Javier Abrica

Javier Abrica

MnTC

Associate in Arts

"When I walked through the doors here, I knew this was the place to get started. I've enjoyed it here ever since. Being Hispanic I appreciate the diversity at Anoka-Ramsey. I have met people from all over the world. It's fun to have them share their cultures with me, and to see they have the same interests as I do."
Carousel Pagination