Profile - Brooklynn Underhill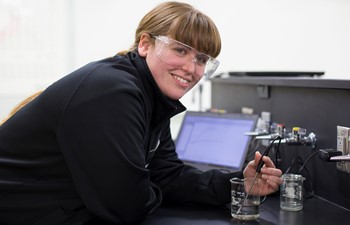 Student Profile
Meet Brooklynn Underhill
Biology program
Question and Answer
Question

Have you had any favorite instructors at Anoka-Ramsey?

Answer

My favorite instructors have been Mackenzie Krzmarzick (Communication Studies), Peter Wahlstrom (Philosophy), Corinne Morrow (Math), and Melissa Mills (Biology).

Question

Did you like the Cambridge Campus?

Answer

I loved that it was a smaller campus so that I could have the one-on-one interaction with my teachers and be more than just a number in the classroom. The Cambridge Campus is also a little more secluded while having an amazing natural environment around it that makes for a peaceful and productive learning environment.

Question

Are you involved in any activities on campus?

Answer

I am personally part of Student Senate as Director of Technology and President for 2018-2019. I am also a member of Phi Theta Kappa and, on occasion, help with GSA (Gender Sexuality Alliance) or any other club that needs additional members to help with events. I'm a member of the TRIO SSS program which I have found to be helpful in giving me advice and further resources to plan out my future and solving any current problems I may be having in school.

Question

What are your future plans?

Answer

My future plan for my degree is to become a family physician by attending the University of Minnesota to further my education after graduating with my degree in Biology from Anoka-Ramsey.
Fun Facts
Fast Fact #1

Brooklynn has played recreational softball all of her life. Her favorite positions to play are pitcher and short stop. She also played volleyball and basketball during grade school. 

Fast Fact #2

Brooklynn's dream job is being a small town doctor where she can get to know the patients better.
Meet Our Students and Alumni
Student Carousel
Carousel Navigation
Carousel Slides
Meet Anna Pescola

Anna Pescola

Natural Sciences

AS Environmental Science

"The approachable faculty is the main contributor to my success as a student. I took mostly STEM core classes where the classes were small, but the content could get pretty heavy. Every professor I had made me feel comfortable visiting their office to get help."

Meet LaShaunda Newsom

LaShaunda Newsom

Natural Sciences

AS Biological Science

"Anoka-Ramsey has so many resources and the instructors are very helpful. The majority of my instructors were great but the one that sticks out the most is Jennifer Braido. She's awesome and helpful."

Meet Jeanne Wigant

Jeanne Wigant

Natural Sciences

AS Biology

"The value of education received at Anoka-Ramsey is incomparable. As an adult learner with a family and financial obligations, I absolutely would not have been able to accomplish my ultimate goal of becoming a physician had it not been for my experience at Anoka-Ramsey."
Carousel Pagination