Profile - Amanda Polipnick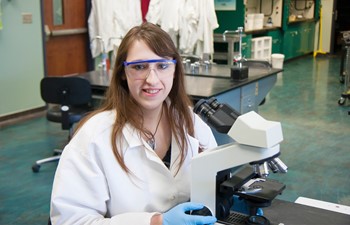 Student Profile
Meet Amanda Polipnick
Biology program
Question and Answer
Question

Have you had any favorite instructors at Anoka-Ramsey?

Answer

I have encountered many teachers who have inspired and guided me to continue my education, among those teacher were; Rebecca Thomas (American Sign Language), Bradley Wold (Biology), Andrew Aspaas (Chemistry) and Kate Maurer (English).

Question

Did you like the Cambridge Campus?

Answer

The Cambridge Campus is beautiful, with the trail, outside seating, and the big rock out front, these features are wonderful for doing homework, studying, or even resting your mind in between classes. The facilities are set up nicely making it easy to find your way around and not intimidating for new students and visitors.

Question

Have you done any community service?

Answer

During the colleges 2nd grade leaf project, I helped the children draw and paint leaves. Helped organized the Phi Theta Kappa/ HOSA Coat drive. With the HOSA club I participated in Feed our starving Children. Helped plan the Health occupations fair at the Cambridge campus. At Grace Pointe I made prayer blankets, and helped residents make tie blankets. I volunteer with my two therapy dogs at my local nursing home and other facilities. I also volunteer at a haunt that gives all their profits to the local food shelf. Helped run an informational session at colleges STEM event. I participate in the Phi Theta Kappa's annual River Clean-up. I also volunteer at the annual Candlelight Ski event.

Question

What are your future plans?

Answer

I will transfer to the University of Minnesota for the Pre-Vet program. My goal is to become a large animal veterinarian. Starting with studying animal science at the University of Minnesota. Then continuing on to graduate school to receive my Doctor of Veterinarian Medicine and Masters of Public Health degree.
Fun Facts
Fast Fact #1

Amanda most appreciate the small, hometown feel as she walked in the door of Anoka-Ramsey.

Fast Fact #2

Amanda is a self-employed farrier. (According to the Merriam-Webster Dictionary, the term farrier is now usually applied specifically to a blacksmith who specializes in shoeing horses, a skill that requires not only the ability to shape and fit horseshoes, but also the ability to clean, trim and shape a horse's hooves.
Meet Our Students and Alumni
Student Carousel
Carousel Navigation
Carousel Slides
Meet Anna Pescola

Anna Pescola

Natural Sciences

AS Environmental Science

"The approachable faculty is the main contributor to my success as a student. I took mostly STEM core classes where the classes were small, but the content could get pretty heavy. Every professor I had made me feel comfortable visiting their office to get help."

Meet LaShaunda Newsom

LaShaunda Newsom

Natural Sciences

AS Biological Science

"Anoka-Ramsey has so many resources and the instructors are very helpful. The majority of my instructors were great but the one that sticks out the most is Jennifer Braido. She's awesome and helpful."

Meet Jeanne Wigant

Jeanne Wigant

Natural Sciences

AS Biology

"The value of education received at Anoka-Ramsey is incomparable. As an adult learner with a family and financial obligations, I absolutely would not have been able to accomplish my ultimate goal of becoming a physician had it not been for my experience at Anoka-Ramsey."
Carousel Pagination