Profile - Joan McKearnan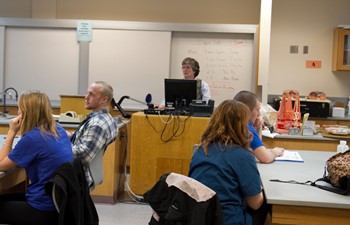 Instructor Profile
Meet Joan McKearnan
Instructor of Biology
Doctor of Philosophy (PhD), University of Maryland; Master of Science (MS), University of Minnesota Duluth; Bachelor of Arts (BA), Gustavus Aldophus College
Question and Answer
Question

Would you list some recent accomplishments?

Answer

Awards:

Minnesota State College Faculty, Coon Rapids Chapter Most Honored Faculty, 2008

Publications:

Cuthbert, F. J., L. R. Wires, and J. E. McKearnan. 2002. Potential Impacts of Nesting Double-crested Cormorants on Great Blue Herons and Black-crowned Night-Herons in the U.S. Great Lakes Region. J. Great Lakes Res. 28:145-154
Gates, J. E. and J. E. McKearnan. 2003. Artificial predation across riparian-upland forest ecotones. Southeastern Naturalist 2:301-312
McKearnan, J.E. 1999. Possible expansion of breeding Great Black-backed Gulls in Michigan. Michigan Birds and Natural History 6:15-18
McKearnan, J.E. 1999. Possible hybrid Ring-billed Gull. Michigan Birds and Natural History 6:23-24
McKearnan, J.E. and F.J. Cuthbert. 1989. Status and breeding success of Common Terns in Minnesota. Colonial Waterbirds 12:185-190
Cuthbert, F.J., J.E. McKearnan, and T.E. Davis. 1984. Status and breeding success of Common Terns at the Port Terminal, Duluth 1982-1983. Loon 54:24-29

Question

What is your approach to teaching?

Answer

I teach Anatomy & Physiology, Unifying Concepts in Biology, Environmental Science, Human Body, Field Biology and Animal Biology. I believe teaching should be an active, never-ending and fun experience. Students should learn how to be critical thinkers and how to apply scientific processes to everyday decisions. And last of all, learning should encourage students to enjoy the wonder of nature.

Question

What inspires you as a teacher?

Answer

Students asking thoughtful, inquiring questions that I might not necessarily know the answer to but show they are thinking deeply are what inspire me. Role models are too numerous to name, but they include my students, former and fellow teachers and, of course, my parents. I am a collection of the interactions I have had with all these role models.

Question

How would you describe what happens during one of your most successful classes?

Answer

My most successful classes are when I don't have to do anything (but perhaps tell my students time is up). When students start discussing topics or issues and they are animated and engaged, my job is done.

Question

What makes your curriculum interesting or valuable to students?

Answer

Much of the topics I teach relate to students' everyday lives; whether they are learning how the body works or how humans impact the environment, they are learning about things that affect them. Also, in my classes, students learn about amazing adaptations that living organisms possess from bacteria that consume oil to animals that can get pregnant before birth.

Question

What are some ways that you help students succeed when they need extra help?

Answer

I hope I make students realize that there are different ways of learning, and I work with them to learn different learning strategies.
Fun Facts
Fun Fact #1

I am an ornithologist and love to take people birding, especially kids.

Fun Fact #2

I have a lovely daughter from Ethiopia.

Fun Fact #3

A day without dark chocolate is a sad day indeed for me.
Meet Our Students and Alumni
Student Carousel
Carousel Navigation
Carousel Slides
Meet Anna Pescola

Anna Pescola

Natural Sciences

AS Environmental Science

"The approachable faculty is the main contributor to my success as a student. I took mostly STEM core classes where the classes were small, but the content could get pretty heavy. Every professor I had made me feel comfortable visiting their office to get help."

Meet LaShaunda Newsom

LaShaunda Newsom

Natural Sciences

AS Biological Science

"Anoka-Ramsey has so many resources and the instructors are very helpful. The majority of my instructors were great but the one that sticks out the most is Jennifer Braido. She's awesome and helpful."

Meet Jeanne Wigant

Jeanne Wigant

Natural Sciences

AS Biology

"The value of education received at Anoka-Ramsey is incomparable. As an adult learner with a family and financial obligations, I absolutely would not have been able to accomplish my ultimate goal of becoming a physician had it not been for my experience at Anoka-Ramsey."
Carousel Pagination