Physical Therapist Assistant Department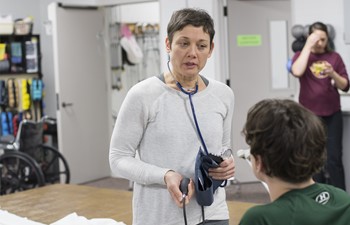 Physical Therapist Assistant Department
The Physical Therapist Assistant (PTA) program is a two-year program that prepares students to work under the supervision of a physical therapist as a PTA in a variety of rehabilitation settings. 
Meet Lisa Lentner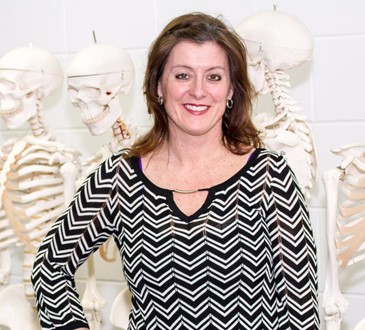 Meet Lisa Lentner
Instructor of PTA
Meet Lisa Lentner
Instructor of PTA
Master of Physical Therapy (MPT), College of St. Scholastica; Bachelor of Science (BS) in Physical Science, College of St. Scholastica
Meet Ekko Blumer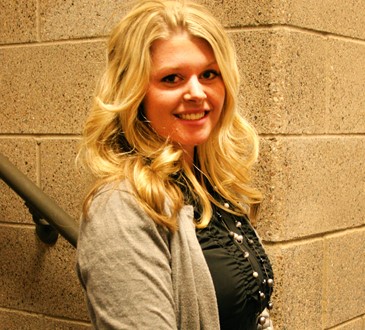 Meet Ekko Blumer
PTA program
Meet Ekko Blumer
PTA program
Degrees & Certificates We Offer
Courses offered range from anatomy, medical terminology and advanced physical therapy techniques. Students also gain hands-on clinical experience at three different healthcare facilities.
The department offers one degree:
The Physical Therapist Assistant program is located in the Visual Arts Building. The lecture and lab rooms all have internet access, projectors and seating for 32 students.

The labs have up-to-date therapy equipment including modalities such as ultrasound, electrical stimulation, combination units, spinal traction, and various heating and cooling agents.

There is also a wide variety of exercise equipment and assistive devices. Students also go to the Health and Wellness Center for specific labs.


The types of setting that a PTA can work in under the supervision of a physical therapist are hospitals, outpatient clinics, skilled nursing facilities, home care therapy, and the school system. Areas of specialty in physical therapy are orthopedics, neurological rehab, pediatrics, geriatrics, pool therapy, manual therapy and sports rehabilitation.

In 2016, the graduation rate for the Anoka-Ramsey PTA Program was 90.6%, in 2017 it was 93.8% and in 2018 it was 66% for a three-year average of 93.5%.

For the graduating class of 2016, 89% of those who graduated and sought employment in physical therapy (full-time or part-time) were employed within one year following graduation. For the graduating class of 2017, 97% of those seeking employment as a PTA were employed within one year after graduation. In 2018 100% of graduates seeking employment are now working as a PTA.

Upon successful completion of the PTA program, graduates must pass the National Physical Therapy Licensing Exam (NPTE).

Our graduates have been very successful on the PTA National licensing exam (NPTE). In 2016 our program's first time and ultimate pass rate are 96.3%. In 2017 the first time and ultimate pass rates were 93.3%. In 2018 the first time pass rate was 88.2% and the ultimate pass rate was 94.1%. A total of 74 graduates from those three cohorts have taken the exam. The mean scores have improved almost every year since 2008 and for 2016 the mean score was 700.2, 2017 mean score was 684.9 and in 2018 683.3. A score of 600 is required to pass the licensing exam. According to the Federation of State Boards of Physical Therapy (FSBPT) reports, ARCC PTA graduates scored above the national mean scale score in all content areas of the licensing exam except cardiovascular/pulmonary and lymphatic systems.

The Physical Therapist Assistant program at Anoka-Ramsey Community College is accredited by the Commission on Accreditation in Physical Therapy Education (CAPTE). 

If needing to contact the program or institution directly, please call Lisa Lentner at 763-433-1293 or email Lisa.Lentner@anokaramsey.edu.


1111 North Fairfax Street
Alexandria, Virginia 22314
703-706-3245
accreditation@apta.org 
www.capteonline.org
Applications are accepted Feb. 1 to Feb. 28 for the following fall semester start date.
Meet Our Students and Alumni
Student Carousel
Carousel Navigation
Carousel Slides
Meet Porscha Sullivan

Porscha Sullivan

Business, Management & Administration

AS Business

"I chose Anoka-Ramsey because of the opportunities and the atmosphere. Whenever in doubt, don't hesitate to ask, because they care for your success as much as you do. You learn so much and the things learned and experienced can be taken with you, and added to your portfolio."

Meet Michael Baker

Michael Baker

Information Systems

AA & AS in Computer Science

"Classes here are great. Teachers truly care about students and smaller class sizes allow for more interaction with students. It's so far from the lecture hall everyone envisions when they think of college. I feel like I actually learn and better myself while attending Anoka-Ramsey."

Meet Mei Luu

Mei Luu

MnTC

Generals & Transfer

"My TRIO SSS advisor always gave me professional assistance and personal encouragement throughout the years. I still feel a welcoming atmosphere every time I visit the TRIO SSS office. When I was a student at Anoka-Ramsey, my advisor helped me create my study plan so I could achieve my bachelor's degree efficiently. I am very thankful for all their help, support and services. TRIO SSS is a valuable program that we have on-campus."
Carousel Pagination