Cost & Aid

Take advantage of the lowest college tuition in Minnesota
How Much Will College Cost?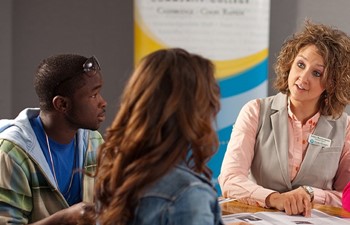 Over half of Anoka-Ramsey students receive grants or scholarships. You could be one of them!

Learn more about the many ways to cover the costs of tuition, fees and books, including:
*Counting on financial aid to help cover tuition costs? Apply early! You can submit your FAFSA form even before you've been accepted for admission – and that will improve your chances of getting aid on time to register for classes. Contact us if you need help completing your FAFSA.
Financial Aid: 763-433-1500
Business Office: 763-433-1600
Scholarship Office: 763-433-1130
Meet Our Students and Alumni
Student Carousel
Carousel Navigation
Carousel Slides
Meet Jared Waln

Jared Waln

Arts & Communication

Music

"The whole music department at Anoka Ramsey is amazing! All the instructors are very helpful. Not only are they wonderful educators, but they have also been great mentors for me. They have pushed me, and helped me reach my potential further than I've expected."

Meet Tacita Gonzalez

Tacita Gonzalez

MnTC

Generals & Transfer

"An education is one of the best choices a person can make. For me, my education has benefited me financially, academically and socially."

Meet Cassandra Bauer

Cassandra Bauer

MnTC

AA & Business

"Anyone of any age wanting to go to college to pursue a degree or general education can come to Anoka-Ramsey and expect a great education and a great time.

When you apply for a scholarship, you will likely get one. I received two scholarships my freshman year: The Otto Bremer Scholarship for $1,500 and the Presidential Scholarship for $3,000."
Carousel Pagination