Cost & Aid

Take advantage of the lowest college tuition in Minnesota
How Much Will College Cost?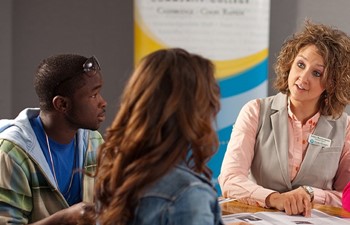 Over half of Anoka-Ramsey students receive grants or scholarships. You could be one of them!

Learn more about the many ways to cover the costs of tuition, fees and books, including:
*Counting on financial aid to help cover tuition costs? Apply early! You can submit your FAFSA form even before you've been accepted for admission – and that will improve your chances of getting aid on time to register for classes. Contact us if you need help completing your FAFSA.
Financial Aid: 763-433-1500
Business Office: 763-433-1600
Scholarship Office: 763-433-1130
Meet Our Students and Alumni
Student Carousel
Carousel Navigation
Carousel Slides
Meet Jamie Haddox

Jamie Haddox

Arts & Communication

Creative Writing

"Having taken creative writing classes at Anoka- Ramsey, I can honestly say that talent alone isn't enough, no matter how talented. There's so much I didn't know. I've also learned that part of writing is having a network. You'll never meet half the people you should without going to school."

Meet Mikhail Morrison

Mikhail Morrison

Allied Health & Nursing

AS Exercise Science

"The instructors who teach in the Exercise Science program are the best. They make the learning experience fun and simple to understand, and they're always available to help, even if it is not directly related to the program."

Meet Hans Boyum

Hans Boyum

MnTC

Associate in Arts

"I think that Anoka Ramsey is a great college for anyone looking to start a college education."
Carousel Pagination