Cost & Aid

Take advantage of the lowest college tuition in Minnesota
Schedule a virtual appointment with the Financial Aid Office.
Chat with a financial aid representative.
Looking for financial assistance and support during this time? Please visit the Minnesota Office if Higher Education's resource list.
How Much Will College Cost?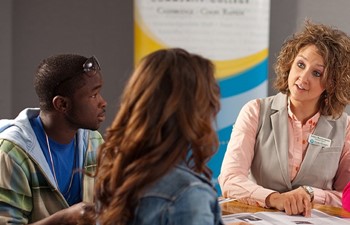 Over half of Anoka-Ramsey students receive grants or scholarships. You could be one of them!

Learn more about the many ways to cover the costs of tuition, fees and books, including:
*Counting on financial aid to help cover tuition costs? Apply early! You can submit your FAFSA form even before you've been accepted for admission – and that will improve your chances of getting aid on time to register for classes. Contact us if you need help completing your FAFSA.
Financial Aid: 763-433-1500
Business Office: 763-433-1600
Scholarship Office: 763-433-1130
Meet Our Students and Alumni
Student Carousel
Carousel Navigation
Carousel Slides
Meet Tina Klaysmat

Tina Klaysmat

Allied Health & Nursing

AS Exercise Science

"I chose ARCC because it is close to home, affordable, and they have a lot to offer in terms of classes and Transfer Pathways."

Meet Logan Douglas

Logan Douglas

Arts & Communication

AFA Theatre

"I think the best aspect of Anoka-Ramsey is the people. Everyone here, staff and students alike, feels super down to earth, and I'm never too scared or nervous to engage in conversation with them… We all help each other with our problems and I think that's one of my biggest reasons I'm glad I came here."

Meet Madison Rowe

Madison Rowe

Information Systems

AS Computer Science

"I was nervous about my decision to come to Anoka-Ramsey because of the stigma of community colleges, but it was the right decision for me."
Carousel Pagination