Write Like Us program announces 2021-22 author-mentors and opens student mentee scholarships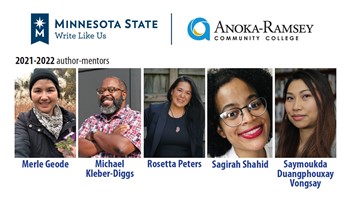 September 24, 2021
Write Like Us will host ten writers in residence during the 2021-22 academic year, its inaugural season, centering and celebrating the work of BIPOC writers and writing students, fostering literary mentorship and leadership as it builds a platform for shared stories, voices, and lived experiences.
Five of the residencies will feature nationally prominent BIPOC authors, one each at five metro-area campuses: Anoka-Ramsey Community College, Century College, Minneapolis Community and Technical College, Normandale Community College, and North Hennepin Community College. The other five residencies will feature local BIPOC author-mentors who will work throughout the year with BIPOC mentees—students at each of our campuses. Write Like Us hopes to increase BIPOC recruitment, retention, and representation in our Associate of Fine Arts (AFA) and creative writing certificate programs—programs with high rates of persistence, graduation, and transfer.
"Anoka-Ramsey's English Department is excited to participate in Write Like Us because it offers our students several rewarding opportunities throughout the academic year. Our Minnesota BIPOC mentor authors will visit creative writing classes both fall and spring semesters, sharing information about Write Like Us opportunities, their writing expertise, and answering student questions," said Paige Riehl, English faculty member and program representative for Anoka-Ramsey.  
"In addition, our BIPOC students are invited to apply for a scholarship to work closely with local BIPOC mentors for the academic school year. Mentors will work with selected students to give them feedback on their writing, to learn about publishing, to attend or learn about literary events and performances, and much more. Each mentorship will be tailored to fit each student's needs."
Write Like Us 2021-22 author mentors
Merle Geode
Michael Kleber-Diggs
Rosetta Peters
Sagirah Shahid
Saymoukda Duangphouxay Vongsay
Working with Write Like Us mentors, mentees will immerse themselves in the local literary community, networking with other writers, getting candid academic and career advice, receiving feedback on their creative work, showcasing that creative work, and attending special private events with acclaimed visiting authors in March and April 2022.
Nationally prominent authors will appear for public readings and on-stage interviews in March and April 2022, as well as at non-public events for current students and prospective students from area high schools. Write Like Us author-mentors will visit creative-writing classrooms at each of the five metro-area campuses during fall and spring semesters and will work individually with eight scholarship mentees from each of the five campuses (forty total) throughout the academic year. Each mentor will interview one of the nationally prominent authors in the public on-stage events in March and April 2022. Potential mentees will apply in fall 2021 for the eight scholarships available at each campus.
Applications are due Oct. 16. Mentors will select eight scholarship mentees per college by Oct. 25.
The inaugural year of Write Like Us is funded by a $150,000 Minnesota State Multi-Campus Collaboration grant in support of Minnesota State's Equity 2030 goals. Minnesota State is a consortium of thirty state colleges and seven universities in Minnesota. Equity 2030 aims to close the educational equity gaps across race and ethnicity, socioeconomic status, and geographic location by the end of the decade at every Minnesota State college and university.
Supplementary Information
Recent News

Anoka-Ramsey In The News

Contact Us

Marketing & Public Relations

Media Relations Contacts: Mary Jacobson & Fia Prpic