Life is long, long enough for many interests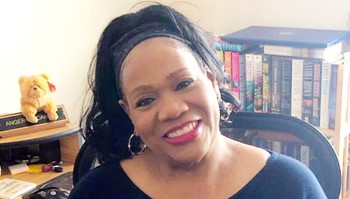 July 07, 2021
All genres of writing, hula dance, gourmet cooking and wine-tasting, cosmetology and fashion merchandising are just few of Angerise Carter's many interests.
"I am always reading and up for new learning possibilities," Angerise said.
"My 25-year-old daughter still doesn't know what she wants to do. I have so many interests that I couldn't live long enough to do all the things I want to do."
That does not stop Angerise from trying. "I was always the creative one in my family. That's probably why my mother insisted I take typing class all through high school. She said I could always get a job with that skill, and she was right."
Angerise's parents emphasized the importance of education (four of her five siblings hold MBA degrees, while another holds a Ph.D.) so she started right out of high school at the University of Minnesota-Duluth. After a year she transferred to the University of Minnesota-Twin Cities to study journalism. In her third year at the university, Angerise was hit by a car, leaving her unable to finish her four-year degree.
She went on however to earn an associate's degree in fashion merchandising from the Minneapolis College of Art and Design, and a cosmetology diploma from Aveda Institute. That, along with her typing skills, allowed Angerise to support her family for many years working in the Minneapolis Public Schools and the Minnesota State systems as an administrative assistant.
It  also allowed her to follow her many interests, including working as a children's dance instructor, cable TV show host, and as an esthetician while continuing to write.
In August 2020, she began working at Anoka-Ramsey Community College as an administrative assistant. "Once I started working here, I was like 'wow, they have a whole creative writing program.' With the support here, I am able to focus on a creative writing career and hopefully get published."
Angerise encourages others interested in writing, or any other career path, no matter what their age, to consider Anoka-Ramsey.
 "Come for the education and stay for the great classes and supportive faculty and staff."
---
Explore Anoka-Ramsey's 100+ programs and courses to reveal your possibilities. 
Supplementary Information
Recent News

Anoka-Ramsey In The News

Contact Us

Marketing & Public Relations

Media Relations Contacts: Mary Jacobson & Fia Prpic