Connecting mental, physical and environmental health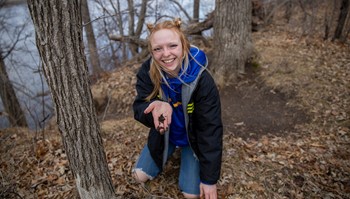 April 21, 2022
Hannah Brunes '22, is building her career from the ground up.
Literally.
"I love dirt," she says, "I know it's weird."
A student in Anoka-Ramsey Community College's Integrative Health and Healing (IHH) program, Hannah aims to cultivate plants as food and medicine, connecting passions at the intersections of health, healing and horticulture.
But that wasn't what she set out to do.
Hannah was initially drawn to campus for other reasons.
"I went to Anoka-Ramsey because it was close to home. I had faith I could have a good transfer degree and I thought I was going to transfer," Hannah says. "But then I discovered holistic healing and I was like 'hold on a second. I need to stay here.'"
Hannah is wrapping up her work in the IHH program while completing an internship this semester at the Minnesota Horticultural Society. She's helping the organization with administrative work – like tracking membership and donation information – and she's working with master gardeners to do educational demonstrations in the community.
She hopes to take what she's learning in the classroom and in the field and one day open her own farm and wellness gardens.
Connecting our community to environmental sustainability through classroom and on-campus work, driven in no small part by its Sustainability Committee, have taken root at Anoka-Ramsey. Through policy and practical applications, Anoka-Ramsey demonstrates its dedication to providing students a space to inspire connections between education and action.
The way Hannah sees it, the connections between the way we care for ourselves as humans – mentally and physically -- and the way we care for the people and planet around us are clear.
"I think if we took the time to take care of our mental health it would come out physically and we'd feel better.
"If we took better care of our mental health, it would show in our physical health and we'd want to be more of a community of happier people," she says.
Learn more about Anoka-Ramsey's Integrative Health and Healing certificate program.
Supplementary Information
Recent News

Anoka-Ramsey In The News

Contact Us

Marketing & Public Relations

Media Relations Contacts: Mary Jacobson & Tiffany Clements