Committed to Student Success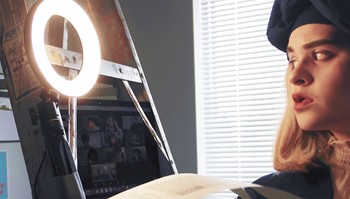 February 11, 2021
In March 2020 Anoka-Ramsey Community College, along with colleges across the state of Minnesota, made the decision to close its campuses and move all classes possible online. With the health and safety of our students, faculty and staff the priority, this model continued into the Spring 2021 semester.
Quickly moving to a remote style of learning and access to support services took commitment and creativity in order to ensure success for our students.
From Stage to Screen
Moving classes online was no small feat for Theater Department faculty member Lisa Weaver. After the spring production was cancelled mid-performance due to the pandemic, the department was determined to make the fall production a reality.
Enter "The Living" a play set in 1665 London as the Black Plague sweeps the city.
"I saw this play being workshopped when I was in grad school and loved it at the time," shared Weaver, also the play's director. "It has so much relevance for our lives right now. It's about finding our best selves in the worst of times. The plot involves social distancing, fear of contagion, loss, grief and community."
Auditions and rehearsals were held virtually and plans for the production were made in the process. "The creativity of the students and opportunity to make the best of the situation we're in have been a gift for everyone involved," said Weaver. 
Prop kits for each actor were carefully put together with costumes, makeup plots and props. The technical crew that which would typically be supporting set design, lighting, sound, etc…had to learn how to utilize technology in new ways to record and produce the final performance by recording the actors individually via Zoom.
"Typically, we would have costume fittings and get to see the set being built," shared student cast member Caitlin Sparks. "Instead we have people getting our pictures to create makeup plots and we're more in a technical production."
Sparks has been part of multiple productions at Anoka-Ramsey and this experience as both a member of the cast and student impacted by the shift to an online format tested her resolve. "When I found out we were moving online I was nervous, I have not been successful learning in that format before."
But Anoka-Ramsey's supportive culture helped shift her mindset to see opportunity and hope.
"Anoka-Ramsey has always been a good place to find support, whether it's academically or just as a person," shared Sparks. "Ever since last spring when we went into quarantine to now, it wasn't a surprise that there was such a support system with my teachers and my friends, but what was a surprise was that it was constant."
 "The thing that has pushed me to keep going and be successful as a student has been surrounding myself with that support system and working towards a common goal of maintaining hope."
While the production wasn't what students originally expected, the format gave everyone involved the opportunity to practice a different set of skills and reach a larger audience than it would in a traditional production.
"Recording our show over Zoom was exciting because I have family in Russia and down south that will be able to see me perform for the first time," said Sam Babkin, a second-year student.
"The big consensus we've come to as a cast is that this is our reality now," said Sparks. "This can be theatre right now, this can be something we learn from, where we can create amazing art just like we would if we were on stage. The entire cast has been able to look at this as a learning opportunity and make the most of it. Because of that I think it's one of the most interesting shows I've been part of."
Expanding Basic Needs Resources
Anoka-Ramsey operates food shelves on both college campuses. Having access to basic needs like food and hygiene products allows students to focus on their health and academic success.
To ensure the safety of the college's staff and students since the pandemic, the food shelves converted to a grab-and-go distribution. Bags of food and personal hygiene items are prepackaged and placed at the main entrance of each campus monthly and remain until they are gone.
Anoka-Ramsey distributed more than 300 bags of food and over 100 hygiene bags in the Fall 2020 semester.
Even with resources available like food and hygiene products, underutilization of existing campus support services to help students connect with basic needs resources – food, housing, transportation, emergency grants, etc. – is a persistent problem at the college.  
While the underlying causes of that underutilization are complex and interconnected, a lack of awareness and challenges in accessing existing information may be a significant contributing factor.
A student's basic needs must be met as a prerequisite for success, especially during a pandemic when support is being provided  remotely.  In an effort to collect and distribute resources and information to students to help them secure basic needs, Anoka-Ramsey worked to centralize relevant resources in an online hub that can be accessed  anywhere, any time. Information can be found at AnokaRamsey.edu/basicneeds.
Technology to Make it Possible
Learning online only works if there is technology to support it.
The Office of Information Technology at Anoka-Ramsey played a critical role in providing faculty, students and staff with the equipment, tools and skills needed to move to online learning.
Anoka-Ramsey provided 244 loaner laptops and tablets to students who lacked equipment and 28 hotspots for students that did not have reliable internet access.
Expanded hotspots were also added across campuses so students and faculty could access reliable internet from vehicles or outside when campus was closed.
If you are a current student and need technology support visit the technology resources page here. 
- 
This story is an article from the Winter 2021 edition of the Anoka-Ramsey Community College Newsletter, visit the Alumni and Community page to read the full issue. 
Supplementary Information
Recent News

Anoka-Ramsey In The News

Contact Us

Marketing & Public Relations

Media Relations Contacts: Mary Jacobson & Fia Prpic