Chance for a second dream career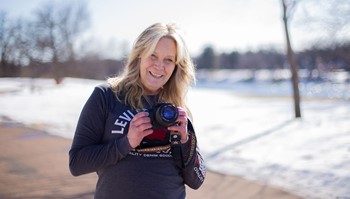 June 09, 2021
Melissa Artus first came to Anoka-Ramsey Community College in 2016. Leaving behind a 35-year career as a hairstylist and a new empty nester, it was time for a change.
On a regular basis Melissa fields the question—"Why are you going to college at your age?" Her response—"Why not?"  
"I worked to raise my family and had my career, the first half of my life, I felt like it was time for a change. I just felt like there was something new out there and some different path to take," she said.  "And it's something to just keep me excited about life, especially now with the pandemic going on it's like you really have to find those things that are going to keep you motivated."
Because of her age, when Melissa started at the college she was attracted to the option for online courses. She struggled a bit at first, but after meeting with an advisor in the TRIO program, she followed the suggestion to mix in some seated courses. The exposure to campus and new routine helped her quickly adjust to her life as a college student. Now, she's working toward an Associate of Fine Arts (AFA) degree in Art. Throughout her time as a student Melissa has taken advantage of the flexibility in course delivery methods and even took courses online from Texas when she temporarily relocated for a year.
During the pandemic, some of that flexibility didn't happen by choice. "I'm taking three courses, two are online and my stained glass class is split so only half of us are on campus together at one time," said Melissa about her experience in the 2020-21 academic year. "It's the way it has to be done because of the pandemic, but it saddens me because new students starting out during the pandemic don't have a clue about what's it's really like on campus. I am hopeful those students and future students get to have a richer experience at the college because it's an awesome place, I can't say it enough, it just is."
As part of the Art program, Melissa has been exposed to art in many different forms and has loved every medium, but photography has become a favorite. During the past year, she worked as a teaching assistant in the photography lab. After developing a deep connection to the campus community, faculty and students, Melissa is in no hurry to leave.
With the support of faculty at Anoka-Ramsey, Melissa has been looking ahead to what's next after graduation. "I'd like to get my bachelor's degree and since I live in Elk River, I've been considering the Art program at Saint Cloud State," shared Melissa. "My goal in the second half of my life here is to somehow be in the elementary schools. I feel like I have a lot to offer some younger kids that would be interested in art. By the time all of this is said and done, I'll be 60, I'm older but I could be a teacher's assistant and think I would bring a lot to a classroom."
"I just can't say enough good things about the school and I hope that can get across to some other students," said Melissa as she encouraged others to consider attending college, "Do not be afraid of your age or your background because the college is so welcoming and helps you in so many different ways. Don't ever be scared to just jump in and go."
---
Learn more about Anoka-Ramsey Community College by planning your visit today.
Supplementary Information
Recent News

Anoka-Ramsey In The News

Contact Us

Marketing & Public Relations

Media Relations Contacts: Mary Jacobson & Fia Prpic