Biomedical Technology Program Connects Students to Industry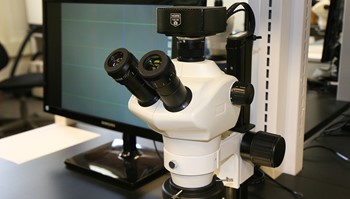 June 12, 2017
An article from the Summer 2017 Issue of the Anoka-Ramsey Community Newsletter
The Biomedical Technology program emerged in response to industry needs, to produce a pool of highly-qualified candidates for the medical device field. The Anoka-Ramsey program benefits the local economy, supporting one of Minnesota's largest industries.
Founded in 1999, the Biomedical Technology program began with a Federal Department of Education grant. The funding allowed college faculty to collaborate with medical device manufacturers and a national network of community colleges to develop curriculum and train students for medical device careers.
There's high demand for graduates of the program, because courses impart the knowledge and skills
employers seek. With an average age of 36, courses at night, and labs in the Professional & Workforce Training Center, students find the program accessible. A diverse group, these students share one thing
in common.
"The determining factor for students in this program is they want to make a difference," says Training Director Matthew Salo. "They want to be cutting edge."
The courses give students a foundation in science and technology, then cover the processes, standards,
regulations and trends in Biomedical Technology. Tom Deroush, an adjunct instructor, offers a survey
course in design and manufacturing.
"One of the things I can offer students is realworld experience," says Deroush, principal scientist
and program manager of business development at Medtronic. "We are practitioners, and I think that's
where the strength of this program is."
Deroush says Medtronic has a reciprocal partnership with Anoka-Ramsey, where assemblers
and other entry-level employees can train for advancement. "We create students for this program,
and the program creates candidates for other roles."
Many students also have the privilege of studying with Katherine Whelchel, who helped design the
program at its inception. Retired from the industry, she has taught at Anoka-Ramsey for 18 years.
"What a lot of people don't realize about Biomedical Technology is it's a lot like a business degree, where
you can do anything," says Whelchel. She orients her students to a range of career options, and helps them
define their path using aptitude tests. "You're going to find out if there's a place for you in the industry."
Whelchel connects students with industry professionals, offering career advice, company tours and networking tips for LinkedIn. For many students, the results are invaluable. "You're whole life changes when you're a student in this program," she says.
The medical device field often draws on other areas of knowledge, ranging from patient care to intellectual
property law, and it uses expertise ranging from clinical research to a registered nurse or juris doctor.
"There are many different types of credentials that will get you in the room," Deroush says. As medical advances continue to transform patient care, biomedical technology continues to be a vital industry—and not just for larger companies like Medtronic, Boston Scientific and St. Jude Medical (now Abbott). "Hundreds of other small companies are recognizing the importance of this industry to Minnesota, to sustain a program that creates good candidates for well-paying jobs."
Instructors have worked to keep the program innovative, adding a clean room, a new laser and
a course on regulations for machinists. "As we're discovering new things, they're being implemented to
help people," says Whelchel.
For students in Biomedical Technology, that's the most important part.
Supplementary Information
Recent News

Anoka-Ramsey In The News

Contact Us

Marketing & Public Relations

Media Relations Contacts: Mary Jacobson & Fia Prpic