Bachelor degree partnerships and transfer pathways make Anoka-Ramsey a great place to start earning a four-year degree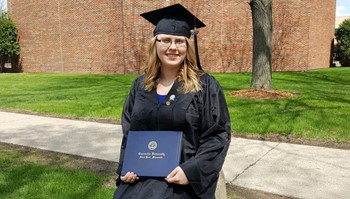 July 09, 2019
In 2014, Cassandra Bauer was a recent high school graduate unsure about what steps to take next. She was unsure of her major but was interested in both general business and video production. She didn't feel comfortable committing to a four-year school feeling so unsure.
That's what brought her to Anoka-Ramsey Community College. As a first-generation college student, the idea of college was intimidating. "To be totally honest, I wanted no part of Anoka-Ramsey when I first entered the doors to take a tour of campus," Cassandra shared. "I do not think it had anything to do with the campus but all to do with how scary it is to go to college, especially as a first-generation college student."
Cassandra quickly found Anoka-Ramsey to be a welcoming community with abundant opportunities for professional and personal growth. Over the first two years in attendance while working towards her associate's degree, Cassandra participated in an undergraduate research project, Phi Theta Kappa Honor Society, the sustainability committee, campus eye newspaper and student senate.
As her first two years at the college were coming to a close, Cassandra found herself wanting to stay.
"I received my [Associate of Arts] AA degree in two years, yet I liked Anoka-Ramsey so much I stuck around for another two years to earn generals for my bachelor's degree and remained involved in the wonderful community," Cassandra said.
Thanks to the Bachelor Degree Partnership Program, Cassandra had this option and continued her education with Concordia University at Anoka-Ramsey's Cambridge Campus.
Through the Bachelor Degree Partnership Program, students seeking four-year and graduate degrees in select programs have the option for completing their education on an Anoka-Ramsey campus. This program is an extremely valuable option for students hoping to further their education but with barriers to going away for college. It's also useful for those simply wanting to stay in Anoka-Ramsey's close-knit community college environment.
"Anoka-Ramsey strives to go above and beyond to ensure student success through these collaborative program options," Cassandra said. "Students get the wonderful opportunity to conveniently transition over to the bachelor level while staying on a campus that feels comfortable. I experienced that with the Bachelor of Arts in Business program through Concordia University St. Paul. If the partnership would not have existed, Concordia would've never been on my consideration list."
Cassandra completed her bachelor's degree in Business this spring. "One of my best highlights from the past four years was discovering my passion for higher education while solidifying my strength in a business and marketing degree path," Cassandra said.
Business partnerships aren't the only bachelor degree options available. Through both the Cambridge and Coon Rapids campuses, Anoka-Ramsey partners with six Minnesota State universities and private colleges, offering degrees in Business, Nursing, Exercise Science, Education and Psychology.
For more information, check out the Bachelor Degree Partnership Program
Options are also available to students looking to get an affordable, quality start to their education and ultimately transfer to a four-year program. Anoka-Ramsey offers a large variety of Transfer Pathway associate degrees.
Through Transfer Pathways, students are guaranteed junior status at a Minnesota State university with assurance that all 60 college credits will count toward the related bachelor's degree.
Supplementary Information
Recent News

Anoka-Ramsey In The News

Contact Us

Marketing & Public Relations

Media Relations Contacts: Mary Jacobson & Fia Prpic