Anoka-Ramsey Student Won First Place in Mathematics Competition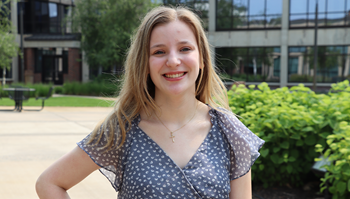 June 22, 2023
Anoka-Ramsey student Eleanor (Ellie) Fredine won first place in the annual Student Mathematics League competition hosted by The American Mathematical Association of Two-Year Colleges (AMATYC).
For 2022-2023, the Postsecondary Enrollment Option student's performance scores won and were the highest in the state of Minnesota. Her strong performance helped Anoka-Ramsey win the team competition for not only the state of Minnesota, but also the Central Region of AMATYC, which includes Colorado, Iowa, Kansas, Minnesota, Missouri, Nebraska, North Dakota, South Dakota, Manitoba, and Saskatchewan. 
Ellie chose Anoka-Ramsey to further her education after she ran out of classes at her high school. She wanted to continue studying math to pursue engineering in her future. The math courses at Anoka-Ramsey have challenged her and helped prepare her for school after high school.
"The math classes were challenging enough that I learned a lot in them, " she says.
Ellie graduated from high school in 2023 with two years of classes from Anoka-Ramsey under her belt. She plans to attend Cornell University in Ithaca, New York. She plans on pursuing biomedical or chemical engineering with goals of someday working in pharmaceuticals in a hospital setting.


About The American Mathematical Association of Two-Year Colleges
The American Mathematical Association of Two-Year Colleges mission is to provide high quality professional development, to advocate and collaborate at all levels, and to build communities of learners for all involved in mathematics education in the first two years of college.
Supplementary Information
Recent News

Anoka-Ramsey In The News

Contact Us

Marketing & Public Relations

Media Relations Contacts: Mary McCarthy