Anoka-Ramsey Community College Two Rivers Reading Series presents author Tracy Youngblom Wednesday, October 25, 2023 from 2-2:50 p.m.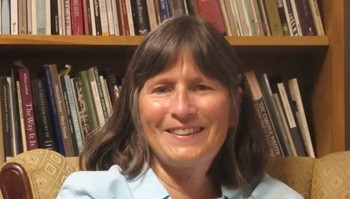 October 09, 2023
Anoka-Ramsey Community College's Two Rivers Reading Series welcomes author Tracy Youngblom for a reading and interview on Wednesday, October 25, 2023, at 2 pm via a live event in the Legacy Room of the Rapids Campus. Youngblom will be giving a presentation on her latest book of poetry Boy and will answer questions from the audience.  
Event Information
Anoka-Ramsey Community College Presents
the Two Rivers Reading Series with author Tracy Youngblom
Wednesday, October 25, 2023
2 to 2:50 pm in the Legacy Room
The event is free and open to the public
Tracy Youngblom's awards and honors include two Pushcart nominations, including one in 2017 for a poem included in Boy, her recent collection. She earned an MA in English from the University of St. Thomas and an MFA in Poetry from the Warren Wilson College low-residency program. She has been writing and publishing poems since the early 1990s. She has published two chapbooks of poems, Driving to Heaven and One Bird a Day, as well as two full-length collections, Growing Big and the recent Boy. In addition to poems, she has published both fiction and nonfiction. She has taught English at Anoka-Ramsey Community College since 2008. She enjoys gardening, hiking, and spending time with her three grown sons.
This event, which is supported by the college's English Department, is free and open to the public. A reviewer of Boy says, "Somehow Youngblom creates poems that are both unflinching and exquisite—just please read this book, you will never forget it." For more information about the event, please visit the Two Rivers Reading Series website at tworiversarcc.wordpress.com/.
The Two Rivers Reading Series recently celebrated 20 years of bringing acclaimed, award-winning authors, poets, and playwrights to Anoka-Ramsey each semester. The series' events strive to make learning more comprehensive by combining classwork with real-world experiences as students study the authors' works in their English courses.
Supplementary Information
Recent News

Anoka-Ramsey In The News

Contact Us

Marketing & Public Relations

Media Relations Contacts: Mary McCarthy