Alumni Connection: Joseph Gottwaldt '07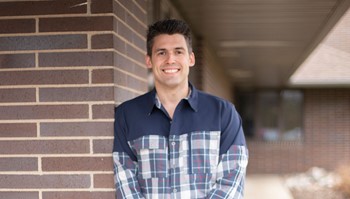 June 22, 2021
From our first graduates in the class of 1965 to today, Anoka-Ramsey Community College is proud of our alumni and their contributions to our community. Catch up with some of our alumni and share your own story at AnokaRamsey.edu/stories
Joseph Gottwaldt '07
Joseph Gottwaldt '07 started at Anoka-Ramsey Community College to complete his general education before transferring to complete a four-year degree. Gottwaldt struggled with anxiety and self-doubt, but his time at Anoka-Ramsey as a student and athlete provided a space to build his confidence.
"The independence of college was a great experience for me," shared Gottwaldt. "I was able to work hard and grow into who I wanted to be. The environment I experienced at Anoka-Ramsey was supportive and all positive. I was encouraged to play baseball and everyone else seemed to believe in me so eventually I started believing in myself as well. Ultimately, I was able to grow as a person and find confidence in myself and my capabilities."
After graduating from Anoka-Ramsey, Gottwaldt went on to complete his education in Fire Technology and Administration, and Paramedicine. Today, he is a full-time fire fighter and paramedic with multiple agencies.
His advice to incoming students: "Trust in yourself and push yourself to find out what you're capable of. You will get as much out of Anoka-Ramsey as you put into it."
---
Reveal your possibilities at Anoka-Ramsey by planning a visit today.
Supplementary Information
Recent News

Anoka-Ramsey In The News

Contact Us

Marketing & Public Relations

Media Relations Contacts: Mary Jacobson & Fia Prpic