Profile - Robert Walz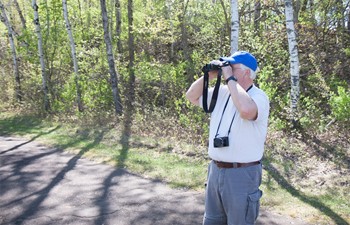 Student Profile
Meet Robert Walz
Spanish Language
Question and Answer
Question

Why did you come to Anoka-Ramsey?

Answer

I am a senior citizen and a life-long learner. Anoka-Ramsey has afforded me the opportunity to pursue my academic interests in my retirement years. My Spanish classes have enabled to communicate with professionals in Central America, facilitating my ability to invite them to visit and respond to their needs. It also helped me to become an ESL tutor for Minnesota Literacy Council. And this year it has enabled me to earn my certification as a Master Naturalist.

Question

What is one thing you want people to know about Anoka-Ramsey?

Answer

The college offers quality and affordable post-secondary education for people of all ages.

Question

Any thoughts on the campus?

Answer

I love the location, next to Spirit River Nature Area and Rum River.
Fun Facts
Fast Fact #1

Bob loves ballroom dancing and is a guardian for Alaskan Wilderness League.

Fast Fact #2

Bob's dream job is organizing birding trips to Latin America.

Fast Fact #3

Bob's wildest dream is to write nature books.
Meet Our Students and Alumni
Student Carousel
Carousel Navigation
Carousel Slides
Meet Judah Porter

Judah Porter

MnTC

AA & Chinese Language

"Anoka-Ramsey has been a blessing in terms of teacher-student ratio. For example, in many other colleges, universities and institutions, a student just feels like one among the masses and there is not much individual help available when needed. Here, whenever a problem arises, me and other students can simply get the help we need."

Meet Kirsten Kennedy

Kirsten Kennedy

MnTC

Associate in Arts

"It was so reassuring to know that if I have a question or need help, resources and counseling were always accessible. There were opportunities to participate in clubs and senate for every student. Most important to me was the access and ability to communicate with my instructors when I needed extra help or had a scheduling conflict."

Meet Pablo Samaniego

Pablo Samaniego

MnTC

Associate in Arts

"I chose Anoka-Ramsey for three reasons: Affordability, transferability and location. It is the most affordable tuition in the state, and one of the lowest in the country. I want to transfer to the University of Minnesota's Bio-chemical program, and my courses will transfer. And it is located on the Mississippi.

The best things about Anoka-Ramsey, though, are the great resources-the Academic Support Center, the Advising Center, the Counseling Center have nice staff committed to your success."
Carousel Pagination