Profile - Courtney VonVett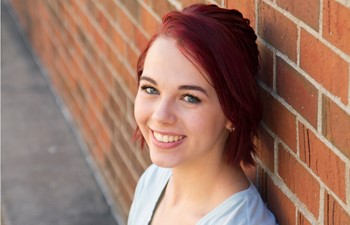 Student Profile
Meet Courtney VonVett
Theatre program
Question and Answer
Question

What is the best aspect of Anoka-Ramsey?

Answer

The sense of community among the students and faculty. If one of my instructors is having a rough day or has to cancel a class due to an emergency, I know there are a number of students who will go out of their way to email that teacher and make sure things are okay. The instructors will do the exact same thing for the students.

Question

What is one thing you want people to know about Anoka-Ramsey Community College?

Answer

It's called a community college for a reason – the community is part of it, and everyone is welcome to be a student here.

Question

What are your plans after college?

Answer

I don't know yet. It sounds very cliché, but I will go wherever the wind takes me. If the wind says, "get a higher degree," I will get one. If it says, "here's a job for you that'd be perfect," I will do that. It's taken me a very long time to be okay with that mindset, and it may not work well for some, but it works great for me.
Fun Facts
Fast Fact #1

Courtney was awarded the 2014-2015 Outstanding Student Award for Best Actress.
Meet Our Students and Alumni
Student Carousel
Carousel Navigation
Carousel Slides
Meet Neal Skoy

Neal Skoy

Arts & Communication

AFA Theatre

"The student counselors and academic advisors were a great resource for me. They were a fantastic help in figuring out the standard college confusions. I recommend taking advantage of those wonderful people.

This college is a gem. The environment, when taken full advantage of, is a remarkable place to learn. It's close to home and you can't beat the tuition. If allowed, this place grows on you!

I enjoyed a lot of GREAT instructors at Anoka-Ramsey. Every subject was led with friendly wisdom and approachable guidance. A school is defined by its instructors and these people are absolutely fantastic.

The Theater program at Anoka Ramsey is solid. The shows are great. The experiences are unforgettable. The hands are more than capable for giving you the experience you need. You can't go wrong. I am a bit biased toward the Theater Department. The Theatre instructors are personable, full of passion, and genuinely smart theater people. Also, the Music Department is underrated –no matter how much credit is given to them."

Meet Bukola Oriola

Bukola Oriola

MnTC

Associate in Arts

"The advisors and counselors were very useful to me. The Tutoring Center was also a tremendous help. As a tutor at the Cambridge Campus, I enjoyed the warmth and support of the center as I helped other students to succeed in their writing."

Meet Matthew Gilbertson

Matthew Gilbertson

Arts & Communication

Theatre

"My education at Anoka-Ramsey created a foundation to transfer and complete my degree in Theatre. I truly believe that both the skilled faculty and my desire to challenge myself is what set me up to succeed at Minnesota State University, Mankato. I feel very prepared for the adventures ahead of me."
Carousel Pagination