Profile - Peter Lerohl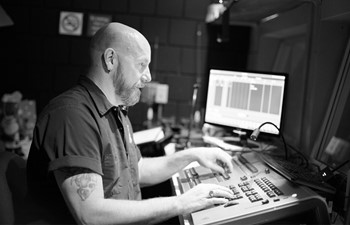 Instructor Profile
Meet Peter Lerohl
Instructor of Theatre
15 graduate credits in Theater Art (Technical Theatre), North Dakota State University; Bachelor of Arts (BA) in Theatre Art/Speech Communication, Concordia College Moorehead; Associate of Arts (AA) in Liberal Arts, Ridgewater College
Question and Answer
Question

Would you list some recent accomplishments?

Answer

In 2014, I was one of three designers nationwide selected by The Kennedy Center American College Theater Festival from 600 colleges and universities for Distinguished Achievement in Scenic Design for my work on Las Hermanas Padilla.

Anoka-Ramsey's production of Las Hermanas Padilla was presented January 2014 at the Region 5 Kennedy Center festival in Lincoln, Nebraska.

Question

What is your approach to teaching?

Answer

I strongly believe that people learn best by doing. Technical theatre engages students physically and intellectually as they work with their hands and their minds. Knowledge and skills gained from this kind of learning serve them throughout their lives - they learn how to collaborate with others as they come up with creative solutions to challenges they encounter with each project. They also learn to be accountable to others in a team as they experience the tangible rewards of seeing all the various elements of a production come together and recognize their own contributions to the whole.

Question

What makes your curriculum interesting or valuable to students?

Answer

Many students come into my class with very little hands-on experience doing production work in theatre. They get to learn many valuable life skills as they complete projects involving building scenery, painting, creating props and learning about stage lighting and theatre technology in general. The work they do culminates in a fully realized theatrical production, which is enjoyed by hundreds of other students and community members. My students feel a very personal sense of pride in their growth, in skills and confidence they gain and in sharing their work with their community.

Question

What are some ways that you help students succeed when they need extra help?

Answer

I am able to work directly with students many hours each week and give them the individualized help they need to learn new skills, to overcome their fears of working in the shop and to encourage them to explore their individual strengths and teach them to work well in groups.

Question

Production Photos

Answer

Anatomy of Gray

Honk!

Flavio Betrayed

Guys & Dolls

Hormel Girls

View from the Bridge

Las Hermanas Padilla

    
 
Fun Facts
Fun Fact #1

I grew up on a farm in rural Minnesota where I learned the cyclical nature of farm life. There is a season and process for each part of the year - times of stress and deadlines and working long hours but also times of rest, having fun and enjoying the fruits of your labor. There are times of great autonomy when you have to work alone but also times of cooperation where you accomplish large tasks as a team. This is actually a lot like theatre, and I feel very close to my roots even though most people don't make that connection.

Fun Fact #2

I love to be onstage as an actor - it's what brought theatre into focus for me growing up. My first role was as a cranberry in a scene about Thanksgiving in an annual operetta the whole school put on. I later went on to perform as a leprechaun and once even an angel! I was in our class plays in high school too and continued acting in numerous college productions at Ridgewater College and Concordia College. Recently, I got to perform a cameo role in The Foreigner at Anoka-Ramsey!
Meet Our Students and Alumni
Student Carousel
Carousel Navigation
Carousel Slides
Meet Brandon Osero

Brandon Osero

Arts & Communication

AFA in Theatre

"The Theatre Department offers a warm, welcoming environment. The instructors provide fantastic feedback to their students. There are also wonderful opportunities for all students to be involved in theatre whether it is onstage, backstage, directing or participating in classroom activities."

Meet Neal Skoy

Neal Skoy

Arts & Communication

AFA Theatre

"The student counselors and academic advisors were a great resource for me. They were a fantastic help in figuring out the standard college confusions. I recommend taking advantage of those wonderful people.

This college is a gem. The environment, when taken full advantage of, is a remarkable place to learn. It's close to home and you can't beat the tuition. If allowed, this place grows on you!

I enjoyed a lot of GREAT instructors at Anoka-Ramsey. Every subject was led with friendly wisdom and approachable guidance. A school is defined by its instructors and these people are absolutely fantastic.

The Theater program at Anoka Ramsey is solid. The shows are great. The experiences are unforgettable. The hands are more than capable for giving you the experience you need. You can't go wrong. I am a bit biased toward the Theater Department. The Theatre instructors are personable, full of passion, and genuinely smart theater people. Also, the Music Department is underrated –no matter how much credit is given to them."

Meet Courtney VonVett

Courtney VonVett

Arts & Communication

AFA in Theatre

"The sense of community among the students and faculty. If one of my instructors is having a rough day or has to cancel a class due to an emergency, I know there are a number of students who will go out of their way to email that teacher and make sure things are okay. The instructors will do the exact same thing for the students."
Carousel Pagination