Profile - Lisa Weaver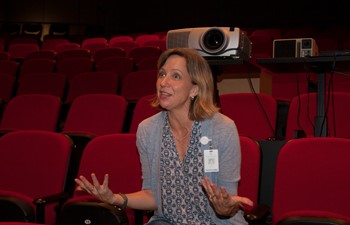 Instructor Profile
Meet Lisa Weaver
Instructor of Theatre
Master of Fine Arts (MFA) in Acting, National Theatre Conservatory; Bachelor of Arts (BA) in Drama, Tufts University
Question and Answer
Question

Would you list some recent accomplishments?

Answer

I won the Goddard Rhetorical Prize at Tufts!!

Question

What is your approach to teaching?

Answer

I have taught almost every age of student from Kindergarten to Lifelong Learners, but I love teaching at the college level and especially love Anoka Ramsey. My students are veterans, new immigrants, HS grads, moms, dads, retirees, theatre geeks, athletes, nurses, and everything in between, and we are all celebrating the human need to tell and share our stories.

Question

What makes your curriculum interesting or valuable to students?

Answer

What I love about theatre is that there are no right answers. I really love the playwrights and directors and actors who leave the audience with questions at the end of a play but don't hand them all the answers. Instead, we, the audience, have to decide: can we feel empathy for a character like Stanley Kowalski or Richard III? Is it tragic or romantic or... annoying when Romeo and Juliet die?

I really enjoy it when students disagree with me and their classmates, but they have to be able to discuss what I call "the Why"! Why did you laugh at that scene? Why is that a pretty costume? Why does that theme make you uncomfortable?

Theatre teaches so many useful life skills like teamwork, public speaking, communication, empathy, conflict resolution, creative problem solving, etc.

Question

How do you think students describe your teaching methods and classes?

Answer

I like to say that as a director I am a democratic dictator. I love suggestions, and I will try different ideas, but in the end, someone has to choose; someone has to decide; and that someone will be me!

In the classroom, my students would probably say I encourage organized chaos! I like structure, but I also leave room for the unexpected. For example, if there is a major world, local or campus news story, I will make time to discuss it. These events may be the basis for the next great play!

Question

What are some ways that you help students succeed when they need extra help?

Answer

Come visit me in my office or drop by the theatre. We faculty members are not unapproachable outside the classroom. It's a small campus - get to know us!

I also highly recommend Student Services. If I were an Anoka Ramsey student, I would be getting all the advising, tutoring, transfer and career counseling I could get. Take advantage of all the school has to offer!
Fun Facts
Fun Fact #1

I can do the splits! And a handstand!

Fun Fact #2

I tend to use dialects all the time - even in class. I am pretty good at Southern American, British, French and a sort of unnamed Eastern European accent.

Fun Fact #3

I have seen Prince in concert about 10 times. RIP, Prince!
Meet Our Students and Alumni
Student Carousel
Carousel Navigation
Carousel Slides
Meet Neal Skoy

Neal Skoy

Arts & Communication

AFA Theatre

"The student counselors and academic advisors were a great resource for me. They were a fantastic help in figuring out the standard college confusions. I recommend taking advantage of those wonderful people.

This college is a gem. The environment, when taken full advantage of, is a remarkable place to learn. It's close to home and you can't beat the tuition. If allowed, this place grows on you!

I enjoyed a lot of GREAT instructors at Anoka-Ramsey. Every subject was led with friendly wisdom and approachable guidance. A school is defined by its instructors and these people are absolutely fantastic.

The Theater program at Anoka Ramsey is solid. The shows are great. The experiences are unforgettable. The hands are more than capable for giving you the experience you need. You can't go wrong. I am a bit biased toward the Theater Department. The Theatre instructors are personable, full of passion, and genuinely smart theater people. Also, the Music Department is underrated –no matter how much credit is given to them."

Meet Bukola Oriola

Bukola Oriola

MnTC

Associate in Arts

"The advisors and counselors were very useful to me. The Tutoring Center was also a tremendous help. As a tutor at the Cambridge Campus, I enjoyed the warmth and support of the center as I helped other students to succeed in their writing."

Meet Matthew Gilbertson

Matthew Gilbertson

Arts & Communication

Theatre

"My education at Anoka-Ramsey created a foundation to transfer and complete my degree in Theatre. I truly believe that both the skilled faculty and my desire to challenge myself is what set me up to succeed at Minnesota State University, Mankato. I feel very prepared for the adventures ahead of me."
Carousel Pagination