Profile - Mathew Schuster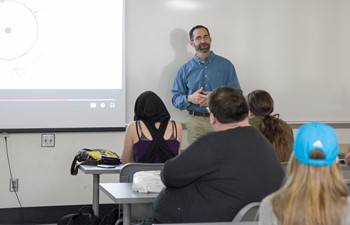 Instructor Profile
Meet Mathew Schuster
Instructor of Political Science
Master of Arts (MA) in Political Science, Arizona State University; Master of Arts (MA) in History, American Public University
Question and Answer
Question

Would you list some recent accomplishments?

Answer

Nominated for "Outstanding Faculty" to the Board of Trustees Award for "Teaching Excellence" in 2011 to 2014

Received Master of Arts from American Public University "with honors."

Question

What is your approach to teaching?

Answer

I do not believe that it is the role of a good teacher to answer students' questions. Rather, the role of a good teacher is to question students' answers. The word "education" comes from the Latin word "educare," which means "to draw out." I want to draw out of you that which exists within you.

Question

How would you describe what happens during one of your most successful classes?

Answer

In my most successful classes, every student participates. This happens more often than you might think.

Question

What makes your curriculum interesting or valuable to students?

Answer

Although I teach about politics and government, I try to develop my courses so students can see how what I teach affects their lives and how they can be active members of the larger political/social community.

Question

How do you help your students get the most out of your class?

Answer

I try to keep my classes real to show how the material we talk about is relevant to their lives, which helps to keep students engaged with the material.
Fun Facts
Fun Fact #1

I am currently married to my first wife.

Fun Fact #2

Fun Fact #3

In my mythical free-time, I enjoy woodworking and running.
Meet Our Students and Alumni
Student Carousel
Carousel Navigation
Carousel Slides
Meet Mikhail Morrison

Mikhail Morrison

Allied Health & Nursing

AS Exercise Science

"The instructors who teach in the Exercise Science program are the best. They make the learning experience fun and simple to understand, and they're always available to help, even if it is not directly related to the program."

Meet Samantha Rosemeir

Samantha Rosemeir

Arts & Communication

AFA Music

"What I appreciate the most about Anoka-Ramsey are the advisors, counselors, instructors and tutors, and especially the math tutors. They care about you as an individual, and are always willing to help."

Meet Tyler Leng

Tyler Leng

Allied Health & Nursing

Pharmacy Technician

"Beyond the great price, the exceptional teaching abilities of the faculty is the best aspect of Anoka-Ramsey, To have these professionals in the respective fields be so engaged is stupendous."
Carousel Pagination