Profile - Mathew Schuster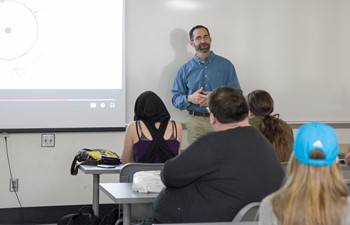 Instructor Profile
Meet Mathew Schuster
Instructor of Political Science
Master of Arts (MA) in Political Science, Arizona State University; Master of Arts (MA) in History, American Public University
Question and Answer
Question

Would you list some recent accomplishments?

Answer

Nominated for "Outstanding Faculty" to the Board of Trustees Award for "Teaching Excellence" in 2011 to 2014

Received Master of Arts from American Public University "with honors."

Question

What is your approach to teaching?

Answer

I do not believe that it is the role of a good teacher to answer students' questions. Rather, the role of a good teacher is to question students' answers. The word "education" comes from the Latin word "educare," which means "to draw out." I want to draw out of you that which exists within you.

Question

How would you describe what happens during one of your most successful classes?

Answer

In my most successful classes, every student participates. This happens more often than you might think.

Question

What makes your curriculum interesting or valuable to students?

Answer

Although I teach about politics and government, I try to develop my courses so students can see how what I teach affects their lives and how they can be active members of the larger political/social community.

Question

How do you help your students get the most out of your class?

Answer

I try to keep my classes real to show how the material we talk about is relevant to their lives, which helps to keep students engaged with the material.
Fun Facts
Fun Fact #1

I am currently married to my first wife.

Fun Fact #2

Fun Fact #3

In my mythical free-time, I enjoy woodworking and running.
Meet Our Students and Alumni
Student Carousel
Carousel Navigation
Carousel Slides
Meet Leetha Phommachack

Leetha Phommachack

Nursing RN

AS Nursing

"Anoka-Ramsey offers many tools for students to become successful in their journey of higher education. I really appreciated the amount of support there is for non-traditional students such as myself."

Meet Andrew Sandahl

Andrew Sandahl

MnTC, Engineering

AS Engineering

"I chose Anoka-Ramsey to fulfill generals and core electives for an electrical engineering degree, to keep overall tuition inexpensive, and to stay close to home. The pre-engineering degree gives beginner engineering students the fundamentals that they need in mathematics, physics, engineering and chemistry. These are crucial to the development they need to build upon when transferring to a university to finish their bachelor's degree."

Meet LaShaunda Newsom

LaShaunda Newsom

Natural Sciences

Biological Science

"Anoka-Ramsey has so many resources and the instructors are very helpful. The majority of my instructors were great but the one that sticks out the most is Jennifer Braido. She's awesome and helpful."
Carousel Pagination