Profile - Ekko Blumer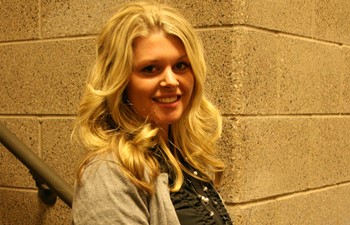 Student Profile
Meet Ekko Blumer
PTA program
Question and Answer
Question

What made you decide to attend college after high school?

Answer

I am pretty goal oriented, so college was always just part of the plan. I took a couple years after high school to work full-time, but always knew it was something I would have to do for myself.

Question

What did you like about Anoka-Ramsey?

Answer

Originally I liked the convenience of Anoka-Ramsey offering two different campus sites and online courses as well as the flexibility of class schedules that were offered. I also heard that transferring credits from Anoka-Ramsey was usually no hassle. And credits are incredibly affordable when compared to other schools.   

Question

Have you done any internships through the PTA program at Anoka-Ramsey?

Answer

Yes. My first internship was with Novacare in Woodbury at an out patient physical therapy clinic and then my second was with the physical therapy department at St. Croix Regional Medical Center in St. Croix Falls, WI.  My final clinical was at a clinic only five miles away from my house.

Question

What was one challenge you overcame while you were attending Anoka-Ramsey?

Answer

College in general has been a challenge for me. I had to figure out how to pay my mortgage, as well as other things on top of being able to spend time with my family and friends while studying and trying to succeed. But, like everyone always tells me, it will all be worth it in the end.

Question

Name one thing you want people to know about the Physical Therapist Assistant program at Anoka-Ramsey.

Answer

I LOVE the Physical Therapist Assistant program. I am actually really surprised how overlooked this field actually is. It is one of those careers that can be so multi-purposed and applied to so many different settings, whether you want to work in a hospital or with athletes or pediatrics.
Fun Facts
Fast Fact

Before starting at Anoka-Ramsey, Ekko's first and only job was working Thrifty White Pharmacy (formerly known as Snyder's Drug).
Meet Our Students and Alumni
Student Carousel
Carousel Navigation
Carousel Slides
Meet Leetha Phommachack

Leetha Phommachack

Nursing RN

AS Nursing

"Anoka-Ramsey offers many tools for students to become successful in their journey of higher education. I really appreciated the amount of support there is for non-traditional students such as myself."

Meet Andrew Sandahl

Andrew Sandahl

MnTC, Engineering

AS Engineering

"I chose Anoka-Ramsey to fulfill generals and core electives for an electrical engineering degree, to keep overall tuition inexpensive, and to stay close to home. The pre-engineering degree gives beginner engineering students the fundamentals that they need in mathematics, physics, engineering and chemistry. These are crucial to the development they need to build upon when transferring to a university to finish their bachelor's degree."

Meet LaShaunda Newsom

LaShaunda Newsom

Natural Sciences

Biological Science

"Anoka-Ramsey has so many resources and the instructors are very helpful. The majority of my instructors were great but the one that sticks out the most is Jennifer Braido. She's awesome and helpful."
Carousel Pagination