Profile - Erin Lovik-Lust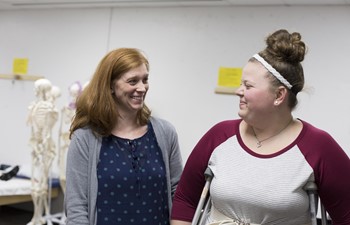 College Lab Assistant Profile
Meet Erin Lovik-Lust
College Lab Assistant of PTA
Associate in Applied Science (AAS) in Physical Therapy Assistant, Anoka-Ramsey Community College
Question and Answer
Question

Would you list some recent accomplishments?

Answer

Credentialed Clinical Instructor through the American Physical Therapy Association.

Question

What is your approach to teaching?

Answer

I am the College Lab Assistant in the Physical Therapist Assistant Program here at Anoka-Ramsey Community College. My duties within the program include: operation of PTA skills labs and clinic, assisting instructors in labs and clinic, tutoring students, and supervising student workers. I am also an Anoka-Ramsey alumni from this program as a 2010 graduate.

Question

What inspires you as a teacher?

Answer

I am most inspired by the patients that we treat and the patients that our students will treat someday. They make me want to be better and do better in all areas of my life.

Question

What are some ways that you help students succeed when they need extra help?

Answer

I enjoy assisting our students to help them succeed and be prepared for their career after graduation. I schedule review sessions, both large group and individual reviews, as well as being present and available during most open lab times. I try to make sure that I am available during hours that work for students within my working day.

Question

How do you help your students get the most out of your class?

Answer

I hope that they learn all that they can and take advantage of many different styles of learning opportunities. I believe everyone can succeed with an open mind and positive attitude.
Fun Facts
Fun Fact #1

I enjoy spending time with my two children and my husband. They are my world!

Fun Fact #2

My children have taught me that even the simplest tasks can be an adventure!
Meet Our Students and Alumni
Student Carousel
Carousel Navigation
Carousel Slides
Meet Leetha Phommachack

Leetha Phommachack

Nursing RN

AS Nursing

"Anoka-Ramsey offers many tools for students to become successful in their journey of higher education. I really appreciated the amount of support there is for non-traditional students such as myself."

Meet Andrew Sandahl

Andrew Sandahl

MnTC, Engineering

AS Engineering

"I chose Anoka-Ramsey to fulfill generals and core electives for an electrical engineering degree, to keep overall tuition inexpensive, and to stay close to home. The pre-engineering degree gives beginner engineering students the fundamentals that they need in mathematics, physics, engineering and chemistry. These are crucial to the development they need to build upon when transferring to a university to finish their bachelor's degree."

Meet LaShaunda Newsom

LaShaunda Newsom

Natural Sciences

Biological Science

"Anoka-Ramsey has so many resources and the instructors are very helpful. The majority of my instructors were great but the one that sticks out the most is Jennifer Braido. She's awesome and helpful."
Carousel Pagination