Profile - Emily Kuhn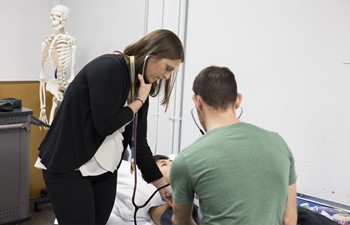 Instructor Profile
Meet Emily Kuhn
Instructor of PTA
Doctor of Physical Therapy (DPT), University of North Dakota; Master of Physical Therapy (MPT), University of North Dakota
Question and Answer
Question

What is your approach to teaching?

Answer

I believe that teaching should be active and fun, and a classroom should be a place where students are provided the tools necessary for success. Teaching should excite the learner to want to continue to learn and to apply their knowledge in their lives and careers. I feel that teachers and students should be partners in the learning that takes place.

Question

How would you describe what happens during one of your most successful classes?

Answer

My most successful classes are those that I actually do very little in. A good class for me is one where the students are actively engaged, have great discussions, and ask me questions that demonstrate critical thinking. These are the classes I walk out of wishing we had more time!

Question

What makes your curriculum interesting or valuable to students?

Answer

Most of the classes I teach directly relate to patient care, which is what students will likely be doing when they graduate from the PTA program. Students enjoy the hands-on learning, especially when they can actually practice the skills they will be using as physical therapist assistants.

Question

What are some ways that you help students succeed when they need extra help?

Answer

I try to help students understand that there are many different learning styles, and we brainstorm what their preferred learning style or styles may be. I then try to give my students the freedom to self-initiate their learning through assignments or lab activities that they can tailor to that particular learning style.
Fun Facts
Fun Fact #1

My family loves to go camping, hiking, swimming...basically anything that gets us outside. We love exploring state parks and have been to almost all of them.

Fun Fact #2

My kids talked me into starting karate with them. I told them I would try it for a month. I liked it more than I thought I would, and seven months later, I promised them I would keep going and work towards getting my black belt with them.

Fun Fact #3

I have worked in home care for the last 10 years as a physical therapist, and I love it. I continue to work per diem because I would miss my patients too much if I didn't.
Meet Our Students and Alumni
Student Carousel
Carousel Navigation
Carousel Slides
Meet Mikhail Morrison

Mikhail Morrison

Allied Health & Nursing

AS Exercise Science

"The instructors who teach in the Exercise Science program are the best. They make the learning experience fun and simple to understand, and they're always available to help, even if it is not directly related to the program."

Meet Samantha Rosemeir

Samantha Rosemeir

Arts & Communication

AFA Music

"What I appreciate the most about Anoka-Ramsey are the advisors, counselors, instructors and tutors, and especially the math tutors. They care about you as an individual, and are always willing to help."

Meet Tyler Leng

Tyler Leng

Allied Health & Nursing

Pharmacy Technician

"Beyond the great price, the exceptional teaching abilities of the faculty is the best aspect of Anoka-Ramsey, To have these professionals in the respective fields be so engaged is stupendous."
Carousel Pagination