Profile - Monica (Mo) Janzen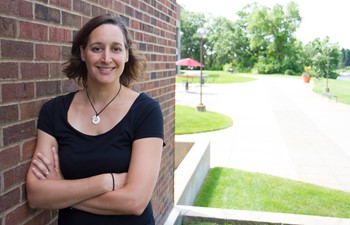 Instructor Profile
Meet Monica (Mo) Janzen
Instructor of Philosophy
Doctor of Philosophy (PhD) in Philosophy, University of Minnesota; Masters of Arts (MA) in Philosophy, University of Minnesota; Bachelor of Arts (BA) in Philosophy, College of St. Catherine
Question and Answer
Question

Tell us about the Scholarship of Teaching and Learning (SoTL) program

Answer

I am interested in the Scholarship of Teaching and Learning (SoTL) program because I wonder if my assignments teach students what I actually intend for them to learn. To learn whether assignments achieve the set objectives, I have designed a study and am compiling data from different semesters. My goal is to better design assignments so that students feel supported throughout the learning process and achieve greater overall success in the course. The Anoka-Ramsey SoTL Scholars program has helped energize me and provided me with logistical and community support to get this important work done.

Question

Would you list some recent accomplishments?

Answer

Awards:


American Philosophical Association Grant Fund for "Community Connections: Digitally Enhanced Community-Based Learning in Philosophy" 2013-2014 (with Dr. Susan Hawthorne and Dr. Ramona Ilea)

Graduate School Doctoral Dissertation Fellowship, University of Minnesota, 2005-2006

Swenson/Kierkegaard Graduate Student Fellowship, University of Minnesota, Spring 2005

Tom Lapic Memorial Fellowship for Research in Philosophy and Social Justice, University of Minnesota, Summer 2004

Graduate Research Partnership Program Grant, University of Minnesota, Summer 2002

Publications:

"Cultivating Citizenship: Student Initiated Civic Engagement Projects in Philosophy Classes," Co-authors: Susan Hawthorne, Ramona Ilea, and Chad Weiner. Philosophy without Walls: Experiential Learning in Philosophy. Ed. Julinna Oxley and Ramona Ilea, New York, Routledge, 2015.

"Review of The Primacy of the Political: A History of Political Thought from the Greeks to the French and American Revolutions by Dick Howard" Essays in Philosophy, Volume 13, Issue 1, 2012, pp. 373-382

"Review of The Ethics of Trade and Aid: Development, Charity, or Waste? by Christopher D. Wraight" Teaching Philosophy, Volume 34, Issue 4, 2011, pp. 425-428

"Truth Telling as a Tool to Repair Past Wrongs," The Ranges of Evil: Multidisciplinary Studies in Human Wickedness. Edited by William Andrew Myers. (ISBN: 1-904710-25-5). An ebook at http://www.inter-disciplinary.net/publishing/idp/eBooks/roeindex.html

Question

What is your approach to teaching?

Answer

I believe philosophy is a powerful and relevant discipline that teaches students to think critically, analyze arguments and evaluate their own ideas and the ideas of others. This, in turn, fosters understanding of complex issues and an ability to express ideas coherently and persuasively. I aim to teach these skills as well as engage and equip all students as learners. I work to inspire my students to see their role in philosophical dialogue, motivate them to want to learn and welcome them to be part of the college community.

Question

How would you describe what happens during one of your most successful classes?

Answer

My most successful classes are those in which students and I learn together. We are engaged by the class materials and truly wonder about what the right answers to life's important questions might be. In these classes, we talk (and laugh) a lot!

Question

What makes your curriculum interesting or valuable to students?

Answer

In additional to readings considered part of the philosophic canon, I incorporate materials from diverse perspectives in my courses so students of color, women, disabled and immigrant students find materials that resonate with their experiences. These materials can be in the form of readings, short videos, analysis of current events or discussions (either in class or online). I also arrange for speakers to give an argument for a particular position to help enrich student understanding of controversial topics. I am committed to maintaining academic excellence while motivating students to see that their own experiences and voices are valuable.

Question

What are some ways that you help students succeed when they need extra help?

Answer

I am friendly and approachable and enjoy helping my students. I am accessible to students outside of class through office hours, prompt email correspondence and phone. I enjoy connecting with students and learning from them, whether they are in a traditional face to face classroom or online. I teach, advise and encourage students in such a way that we work together in the pursuit of knowledge and the creation of a better world.
Fun Facts
Fun Fact #1

I hum when I eat, but only when I am happy.

Fun Fact #2

I love to be outside: hiking, camping, canoeing, swimming, skiing and walking.

Fun Fact #3

I enjoy new experiences, whether it is traveling (and living in a different country), road tripping with my family, skydiving or meeting new people.
Meet Our Students and Alumni
Student Carousel
Carousel Navigation
Carousel Slides
Meet Yinka Jerry

Yinka Jerry

MnTC

AA Psychology Emphasis

"Anoka-Ramsey is a great place to start for young adults especially if they do not know what they want to major in. The staff are able to help students down that career path."

Meet Marina Richter

Marina Richter

Natural Sciences

AS Biology

"The professors at Anoka Ramsey are not only knowledgeable about course content but also care about their students' success."

Meet Hoang Doan

Hoang Doan

MnTC

AAS Business

"It was cheap and I wanted to attend a small college."
Carousel Pagination