Profile - Saeed Saeed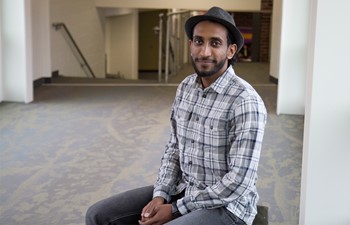 Student Profile
Meet Saeed Saeed
Nursing program
Question and Answer
Question

What originally brought you to Anoka-Ramsey?

Answer

I moved to the United States in 2014. I didn't have the chance to look for colleges, so I applied to Anoka-Ramsey because my cousin was attending, and I got accepted for the spring semester 2015. It was hard for me to start school on my third week of being in a new country, but I am glad that I end up going to Anoka-Ramsey.

Question

Do you have any favorite instructors?

Answer

It's hard for me to say who has been my best instructor, because every instructor has been incredible and very helpful, especially with my situation having recently moved to the US. However, I learned a lot from Mark Widdel. He has unique way of teaching

Question

What are your plans for the future?

Answer

First, I plan to get my RN degree from Anoka-Ramsey, then my bachelor's degree in Nursing from Metropolitan State, and finally my master's degree in Nursing from the University of Minnesota.
Fun Facts
Fast Fact #1

Saeed's dream job is to be a nurse anesthetist

Fast Fact #2

His wild dream is to travel the world in his own jet.
Meet Our Students and Alumni
Student Carousel
Carousel Navigation
Carousel Slides
Meet Ashley Racutt

Ashley Racutt

Allied Health & Nursing

MANE RN Nursing

"Anoka-Ramsey is extremely student-oriented. The faculty and staff set students up for success. The Nursing program challenged me without overwhelming me."

Meet Georgina Minwegen

Georgina Minwegen

Allied Health & Nursing

MANE RN Nursing

"Anoka-Ramsey has a lot to offer; it has a great atmosphere, great teachers, and great prices! I love the one-on-one interaction between the teachers and the students. The individualized help that the teachers offer makes it easy to excel."

Meet Amanda Morgensen

Amanda Morgensen

Allied Health

Nursing

"Anoka-Ramsey offers low tuition costs and a positive environment from both peers and professors. It is a great place to start courses for a career. Everywhere you look, there is someone willing to help you with your studies."
Carousel Pagination