Music Department
Reveal your musical talent at Anoka-Ramsey. Our faculty will inspire you as you prepare for a career in music and develop a lifelong appreciation for the performing arts. Learn more by visiting the Music Department webpage.

Meet Melissa Bergstrom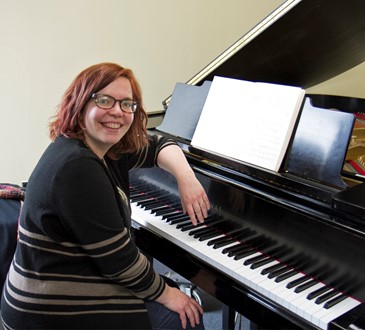 Meet Melissa Bergstrom
Instructor of Music
Meet Jared Waln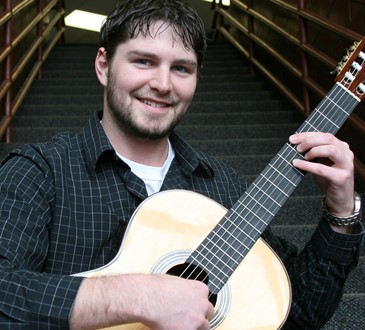 Meet Jared Waln
Music program
Degrees & Certificates We Offer
Courses offered range from music theory and music history to private lessons. Everyone is welcome to participate in choir, band, orchestra or one of our ten ensembles.
The Music Department offers one degree:
Below is a list of courses offered by the Music department. For more details, visit arccmusic.com/classes. 

Registration for Current Students

Introduction to Music Business
Introduction to Songwriting
Rock and Roll History
Jazz History
Music History and Literature 
Fundamentals of Music
Music Therapy, Techniques and Materials
Introduction to Music Technology
Music in Film, Television and Gaming
Audio Recording and Live Sound
Music Theory
Aural Comprehension
Introduction to World Music
Class Guitar
Class Piano 
Music Appreciation
Introduction to Music Education 
Applied Lessons
Keyboarding Skills for Majors

The Anoka-Ramsey Community College Music Department offers the Associate of Fine Arts degree (AFA) in Music. The AFA includes a complete two-year Music Theory sequence, a year of Music History, Private Individual Lessons and Performance Ensembles in Bands and/or Choirs. Students may transfer as a third year Music student in bachelor of arts, bachelor of fine arts, bachelor of Music or Bachelor of Music Education degree programs.

Through completion of the AFA, students may prepare for careers in music teaching, music therapy, performance, composition, conducting, and music business.

The mission of the Anoka-Ramsey Community College Music Department is two fold:

To prepare students for careers and advanced study in music by offering an Associate of Fine Arts in Music

To provide music as a general education offering to all students through classroom and performance courses.

In order to fulfill this mission, the Music Department makes the following commitments:

♪ To offer all the courses students need to transfer into four-year music degree programs.

♪ To prepare each Associate of Fine Arts Degree student with a solid foundation in music.

♪ To prepare students artistically, intellectually, and professionally for the challenging world in which musicians now live.

♪ To encourage students to become supporters and advocates of music as an integral part of the human experience.

♪ To encourage students to develop an understanding and appreciation of the world of Art Music through general education.

♪ To provide opportunities for all students to participate in music ensembles.

♪ To provide opportunities for all students to explore individual studio instruction.

♪ To expose students to a diversity of global, historical and popular music.

♪ To offer music curricula of interest, integrity and innovation.

The Music Department is housed in the recently renovated Music Building. This new facility offers two large rehearsal rooms and one small rehearsal room for ensembles, a dual piano/mac lab with music writing and editing software, and eight practice rooms for individual practice. Each practice room is open to any Anoka-Ramsey student and is equipped with a Mac computer with music writing and editing software installed.

April 28, 7 pm PAC
Jazz Ensemble Concert

May 1, 7 pm PAC
Choir Concert

May 2, 7 pm PAC
Concert Band and String Orchestra Concert

May 4, 7 pm PAC
Guitar Ensemble and World Drumming Ensemble Concert

May 8, 7 pm PAC
AFA Recital

Learn more about Ensembles here.

| | |
| --- | --- |
| Choral | Instrumental |
| Concert Choir | Concert Band |
| Chamber Singers | Jazz Ensemble |
| Cambridge Concert Choir | String Orchestra |
|   | Guitar Ensemble |
|   | Chamber Ensembles |
|   | World Drumming Ensemble |
|   | Musical Theatre Ensemble |

Full-Time Faculty

Full-Time Faculty

Full-Time Faculty; Department Chair

Full-Time Faculty

Cambridge Campus

Trombone Faculty

Voice Faculty

Piano Faculty

String Faculty

Percussion Faculty

Guitar Faculty

Saxophone Faculty

Bass Faculty

Amelia Smith, 763-422-6193

Clarinet Faculty

Horn Faculty

Lorelei Giddings

Oboe Faculty

Bassoon faculty
More About The Department
Meet Our Students and Alumni
Student Carousel
Carousel Navigation
Carousel Slides
Meet Cyril Dela Cruz

Cyril Dela Cruz

Arts & Communication

AFA Music

There are crazy awesome connections and great resources here at Anoka-Ramsey. You also develop character learning about the world and your major.

Meet Alexis Johnson

Alexis Johnson

Music

AFA Music

The teachers really want you to succeed and will make sure they do everything they can to help you. You aren't just a number here!

Meet Tucker Seagraves

Tucker Seagraves

Arts & Communication

AFA Music

The level at which the faculty care about each and every student on a personal level is truly amazing.
Carousel Pagination