Profile - Rumen Hulmequist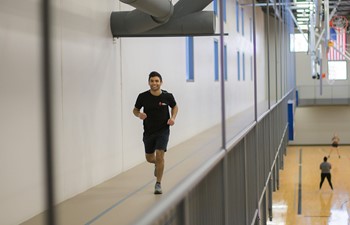 Student Profile
Meet Rumen Hulmequist
Exercise Science Program
Question and Answer
Question

What originally brought you to Anoka-Ramsey?

Answer

I chose Anoka-Ramsey because I knew I wasn't ready for a four-year university, and I knew that Anoka-Ramsey would support me. I was also very interested in the coaching certificate program. Additionally, Anoka-Ramsey has helped me develop in my personal and academic success.

Question

What are your favorite things about Anoka-Ramsey?

Answer

The best aspect of Anoka-Ramsey is that it is small and helps create a platform for future success. My highlight at Anoka-Ramsey would be when I came to the realization of how formal education can be a diving board to future success. For example, I have always had test anxiety and math phobia during my academic years. I've learned that life isn't about how much you have or about how much you don't have, it's about striving in the process of life with the things you do have because your already thankful.

Question

What do you think of the Exercise Science program?

Answer

I am in a program between Anoka-Ramsey and Southwest Minnesota State University for Exercise Science. This is a unique opportunity to be able to continue at Anoka-Ramsey, while pursuing my four-year degree.  I get all of the benefits of a small campus and committed professors.
Fun Facts
Fast Fact #1

Rumen's hobbies include breaking world records, reading philosophy and motivational books, and motivational speaking.

Fast Fact #2

Rumen's dream jobs are to be a fitness consultant and motivational speaker.
Meet Our Students and Alumni
Student Carousel
Carousel Navigation
Carousel Slides
Meet Tacita Gonzalez

Tacita Gonzalez

MnTC

Generals & Transfer

"An education is one of the best choices a person can make. For me, my education has benefited me financially, academically and socially."

Meet Cody Laberda

Cody Laberda

MnTC

Associate in Arts

"AR was a great place to start for me. They offered great art classes, which was something I was seriously considering after high school. Also, the year I started was the first year they formed a men's collegiate soccer team/program, so I tried out and made the team.

Anoka-Ramsey offers opportunity; opportunity with the best-looking community college and location in the state.

My experience in the Multicultural Club was awesome. There were so many students I met from all over the world. It was amazing. I thoroughly enjoyed the club as well as the many field trips we took including the one at the convention center, Festival of Nations."

Meet Sydney Sand

Sydney Sand

MnTC

Associate in Arts

"Anoka-Ramsey helped me to feel that I was not alone with my educational goals. The advisors ensure that you get an answer to every question. If you need any help, there are many places to find it."
Carousel Pagination