Profile - Elijah Mohammad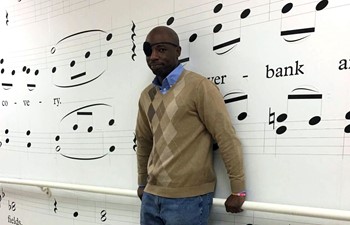 Student Profile
Meet Elijah Mohammad
Community Health Program
Question and Answer
Question

What originally brought you to Anoka-Ramsey?

Answer

In search of a more well rounded education, I attended\ an Open House. I met the Student Senate President, who introduced me to the Student Life Coordinator, who introduced me to the Director Of Diversity and Multiculturalism, who I started working for once I became a student.

Question

What have you found to be the best aspect of Anoka-Ramsey?

Answer

Availability. Administration, faculty and staff doors are open to everyone. There is no ivy tower perspective here. Anoka-Ramsey is inclusive, and education is the priority. From the first day and every day, I can ask for support when I need it.

Question

Are you part of any clubs or organizations?

Answer

I am president of the Transnational Student Union. It was the Black Student Union, but I changed the name to make it more inclusive. Personally, I mentor two to three students, checking in with them, making sure they have eaten, checking their homework, holding them accountable.

Question

What is one thing you would like people to know about Anoka-Ramsey?

Answer

Anoka-Ramsey prepares you for your next step. It inspires you to succeed.

Question

What are your career goals?

Answer

I want to work with distressed youth and, one day, sit at the table where policies are made.
Fun Facts
Fast Fact #1

Elijah travels five hours a day by bus to attend Anoka-Ramsey.

Fast Fact #2

He is a recipient of an Act of Kindness grant.
Meet Our Students and Alumni
Student Carousel
Carousel Navigation
Carousel Slides
Meet Tacita Gonzalez

Tacita Gonzalez

MnTC

Generals & Transfer

"An education is one of the best choices a person can make. For me, my education has benefited me financially, academically and socially."

Meet Cody Laberda

Cody Laberda

MnTC

Associate in Arts

"AR was a great place to start for me. They offered great art classes, which was something I was seriously considering after high school. Also, the year I started was the first year they formed a men's collegiate soccer team/program, so I tried out and made the team.

Anoka-Ramsey offers opportunity; opportunity with the best-looking community college and location in the state.

My experience in the Multicultural Club was awesome. There were so many students I met from all over the world. It was amazing. I thoroughly enjoyed the club as well as the many field trips we took including the one at the convention center, Festival of Nations."

Meet Sydney Sand

Sydney Sand

MnTC

Associate in Arts

"Anoka-Ramsey helped me to feel that I was not alone with my educational goals. The advisors ensure that you get an answer to every question. If you need any help, there are many places to find it."
Carousel Pagination