Profile - William Breen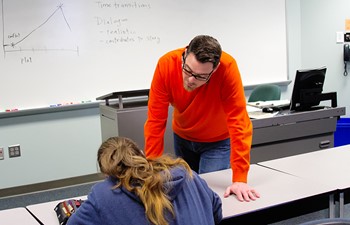 Instructor Profile
Meet William Breen
Instructor of English
B.A. in English Literature, Bethel University; M.F.A. in Creative Writing, University of Arkansas
Question and Answer
Question

What is your approach to teaching?

Answer

Students learn best when they are challenged and stimulated. They also need permission to take risks and make mistakes. Then, with good feedback from me and some hard work from them, they WILL become better readers and writers.

Question

What makes your curriculum interesting or valuable to students?

Answer

Writing is a life skill, and becoming a better writer opens doors for you. Literature, like life, is endlessly strange, sad, inspiring, and hilarious. What's not to love?

Question

How would you describe what happens during your most successful classes?

Answer

The best learning experiences in my classes occur when everyone in the room has come prepared and ready to participate. On those days, the time flies by and my students learn as much from each other as they do from me.

Question

How do you help your students get the most out of your classes?

Answer

As much I can, I try to not only teach the concepts of good writing but also act as a personal writing tutor for my students, giving feedback directly on the page. I also think one of my strengths is reading my students, noticing what is clicking for them and what is unclear, and responding accordingly.

Question

How do you think students would describe your classes?

Answer

Students often tell me they're surprised to find that a class they thought would be boring was actually pretty interesting and that I explain difficult concepts clearly.
Fun Facts
Fun Fact #1

I have lyrics on a Grammy-nominated album.

Fun Fact #2

My kids are way cooler than I was at their age, or than I ever will be.

Fun Fact #3

Once at a stoplight, Batman pulled up next to me in the Batmobile. True story! When I looked over at him, he said, "Hello, citizen." Then the light turned green and he sped off.
Meet Our Students and Alumni
Student Carousel
Carousel Navigation
Carousel Slides
Meet Joshua Chase

Joshua Chase

Arts & Communication

Creative Writing

"The teachers are, hands down, the best part of Anoka-Ramsey. I've always read a lot, but while at Anoka-Ramsey, I had teachers who gave me entirely new perspectives on the writers and works I was already interested in. I always knew I liked certain authors, but couldn't really put my finger on why. After my time at Anoka-Ramsey, I had a much better understanding.

I spent a lot of time in the advising office. Having transferred many of my credits from a community college in Nevada, I wasn't really sure how to proceed in a new state with different graduation requirements."

Meet Jamie Haddox

Jamie Haddox

Arts & Communication

AA Creative Writing Emphasis

"Having taken creative writing classes at Anoka- Ramsey, I can honestly say that talent alone isn't enough, no matter how talented. There's so much I didn't know. I've also learned that part of writing is having a network. You'll never meet half the people you should without going to school."

Meet Javier Abrica

Javier Abrica

MnTC

Associate in Arts

"When I walked through the doors here, I knew this was the place to get started. I've enjoyed it here ever since. Being Hispanic I appreciate the diversity at Anoka-Ramsey. I have met people from all over the world. It's fun to have them share their cultures with me, and to see they have the same interests as I do."
Carousel Pagination