Profile - Tracy Youngblom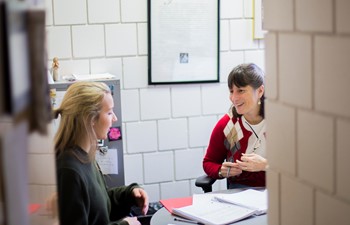 Instructor Profile
Meet Tracy Youngblom
Instructor of English
Master of Fine Arts in Poetry, Warren Wilson College low-residency program; Master of Arts (MA) in English, University of St. Thomas; Bachelor of Arts (BA) in English, St. Mary's College
Question and Answer
Question

What is your approach to teaching?

Answer

The classroom is an exciting space, filled with potential. I have always enjoyed the give and take of discussion, the exchange of ideas and the challenge of thinking about writing and literature with students. Every semester brings me a new opportunity to meet students where they are and help them see what place education will have in their future

Question

Would you list some recent accomplishments?

Answer

Awards: two-time Finalist for Loft-McKnight Award in Poetry, 2nd Place in American Pen Women Poetry competition, 1st Place in Briar Cliff Review's Poetry competition, Pushcart Nominee, Finalist for Nimrod-Hardman Poetry competition

Publications, Books: Driving to Heaven (poetry chapbook), 2010; Growing Big (poetry collection), 2013; One Bird a Day (poetry chapbook, forthcoming.

Publications, Journals: poetry, fiction, and nonfiction published in journals such as:
Shenandoah, Big Muddy, Cortland Review, Poetry East, Potomac Review, Kansas Quarterly, Briar Cliff Review, The Slate, Great River Review, Naugatuck River Review, 2River View, Wallace Stevens Journal, Aethlon, a Journal of Sports Literature, Weave Magazine, Ruminate, QU Literary Journal, Dogwood, Cumberland River Review, DMQ, Westview, Frostwriting, Foliate Oak, and other places.

Publications, Anthologies: 33 Minnesota Poets; In a Fine Frenzy: Poets Respond to Shakespeare; Feast: Poetry and Recipes for a Full Seating at Dinner

Question

What inspires you as a teacher?

Answer

I am inspired by past teachers who have led me to think more deeply and write better than I knew I could. My list could be endless, but Laura Myhr, Lon Otto, Brenda Powell, Rob Foy, Brother Lawrence Oelschlegel and Michael Mikolajczak come to mind. Studying English, I also learned that books can transport me to other times, and allow me to meet characters whom I get to know so well they seem like friends. Books also woke in me the desire to become a writer; early on in my education the poetry of Deborah Keenan inspired me to try writing poetry. I'm still at it.

Question

How would you describe what happens during one of your most successful classes?

Answer

When things go well, there's an intensity to the interactions that happen in the classroom that energizes me. For me, being organized, so that the class activities link together and build on each other, makes for a successful class. And when students come prepared to share ideas and to work at writing, when I am sensitive to students' needs, then the classroom hums with possibility.

Question

What makes your curriculum interesting or valuable to students?

Answer

I always seek to choose readings that are relevant and diverse; no one single perspective is presented, but a range of topics and opinions by male and female writers, by writers from a variety of backgrounds. My job is to expose students to ideas they wouldn't come across otherwise. In addition, I give students choice when it comes to assignments, so they can match their interests with paper topics.

Question

How do you think students describe your teaching methods and classes?

Answer

Students have told me that my classes are challenging, but they feel supported throughout the semester. I do try to draw students out in discussion, encouraging them to speak their opinions. All of my classes are discussion based because I believe that participating in one's own education is valuable.

Question

What are some ways that you help students succeed when they need extra help?

Answer

I am always available for one-on-one meetings to answer questions or give feedback on assignments in progress. I recommend students attend Writing Center workshops or visit the Writing Center for help on their papers.

Question

How do you help your students get the most out of your class?

Answer

I provide clear and explicit directions and due dates for all assignments. I hold conferences at least once per semester so students can discuss papers or portfolios with me. I try to schedule some "work" days or periods so that I can answer questions about work in progress. Finally, I encourage students to keep up, as it's always easier than trying to catch up.
Fun Facts
Fun Fact #1

I still play competitive volleyball, and I love it!

Fun Fact #2

I love to garden and cook with the produce I grow. In addition, I often bake my own bread and can tomatoes when I get enough from the garden.
Meet Our Students and Alumni
Student Carousel
Carousel Navigation
Carousel Slides
Meet Joshua Chase

Joshua Chase

Arts & Communication

Creative Writing

"The teachers are, hands down, the best part of Anoka-Ramsey. I've always read a lot, but while at Anoka-Ramsey, I had teachers who gave me entirely new perspectives on the writers and works I was already interested in. I always knew I liked certain authors, but couldn't really put my finger on why. After my time at Anoka-Ramsey, I had a much better understanding.

I spent a lot of time in the advising office. Having transferred many of my credits from a community college in Nevada, I wasn't really sure how to proceed in a new state with different graduation requirements."

Meet Jamie Haddox

Jamie Haddox

Arts & Communication

AA Creative Writing Emphasis

"Having taken creative writing classes at Anoka- Ramsey, I can honestly say that talent alone isn't enough, no matter how talented. There's so much I didn't know. I've also learned that part of writing is having a network. You'll never meet half the people you should without going to school."

Meet Javier Abrica

Javier Abrica

MnTC

Associate in Arts

"When I walked through the doors here, I knew this was the place to get started. I've enjoyed it here ever since. Being Hispanic I appreciate the diversity at Anoka-Ramsey. I have met people from all over the world. It's fun to have them share their cultures with me, and to see they have the same interests as I do."
Carousel Pagination