Profile - Tracy Kristo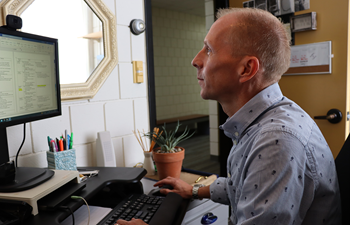 Instructor Profile
Meet Tracy Kristo
Instructor of English
Master of Arts (MA) in English, National University; Master of Arts (MA) in Education, College of St. Catherine; Bachelor of Science (BS) in Secondary English Education, Maranatha Baptist Bible College
Question and Answer
Question

What inspires you as a teacher?

Answer

I am inspired by the challenge of teaching as an art because there are many ways to approach the curriculum, and finding the best way to deliver it to students keeps me engaged in teaching.

Question

How would you describe what happens during one of your most successful classes?

Answer

A successful class period is one in which students are talking about the material, asking questions, and feeling challenged to think about something entirely new or something known in a new way.  A successful literature course involves students gaining a new, sharper perspective that allows them to better understand the literature, themselves, and others.

Question

What makes your curriculum interesting or valuable to students?

Answer

Writing well is a life-long skill.  I hope students in my composition courses leave feeling ready to tackle any writing that comes their way in future courses, knowing that writing is a process of constant revision and self-expression. Understanding others and appreciating our differences is also a necessary life skill, and studying literature allows us to gain expertise in that area. I hope the students in my literature courses find a renewed interest in the literature of the course and that they understand literature is a way to learn more about themselves, others, and the world we all share.

Question

How do you think students describe your teaching methods and classes?

Answer

I would feel successful if students describe me as an approachable professor who offers courses that are organized, interactive, and challenging.

Question

What are some ways that you help students succeed when they need extra help?

Answer

Oftentimes, a brief office visit is all students need to feel supported and encouraged in a course, and I encourage students to visit with me if they have concerns about their course progress. It is always time well-spent.
Fun Facts
Fun Fact #1

I am a Yooper. (I grew up in Michigan's Upper Peninsula -- the U.P. -- in a town on a small bay connected to Lake Superior.)

Fun Fact #2

My family background is Finnish on both sides, and I grew up in an area of the Upper Peninsula which has a high density of Finnish people, allowing me grow up appreciating that culture through its customs and food.

Fun Fact #3

My hobbies include swimming, reading, gardening, and traveling. I also enjoy doing projects as large as refinishing furniture down to smaller crafts.
Meet Our Students and Alumni
Student Carousel
Carousel Navigation
Carousel Slides
Meet Joshua Chase

Joshua Chase

Arts & Communication

Creative Writing

"The teachers are, hands down, the best part of Anoka-Ramsey. I've always read a lot, but while at Anoka-Ramsey, I had teachers who gave me entirely new perspectives on the writers and works I was already interested in. I always knew I liked certain authors, but couldn't really put my finger on why. After my time at Anoka-Ramsey, I had a much better understanding.

I spent a lot of time in the advising office. Having transferred many of my credits from a community college in Nevada, I wasn't really sure how to proceed in a new state with different graduation requirements."

Meet Jamie Haddox

Jamie Haddox

Arts & Communication

AA Creative Writing Emphasis

"Having taken creative writing classes at Anoka- Ramsey, I can honestly say that talent alone isn't enough, no matter how talented. There's so much I didn't know. I've also learned that part of writing is having a network. You'll never meet half the people you should without going to school."

Meet Javier Abrica

Javier Abrica

MnTC

Associate in Arts

"When I walked through the doors here, I knew this was the place to get started. I've enjoyed it here ever since. Being Hispanic I appreciate the diversity at Anoka-Ramsey. I have met people from all over the world. It's fun to have them share their cultures with me, and to see they have the same interests as I do."
Carousel Pagination