Profile - Scott Wrobel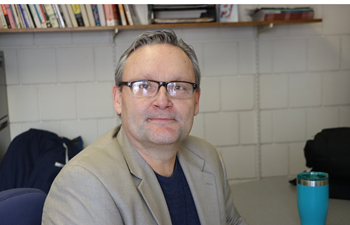 Instructor Profile
Meet Scott Wrobel
Instructor of English
Master of Fine Arts (MFA) in Creative Writing, Minnesota State University Mankato; Bachelor of Arts (BA) in Literature/Creative Writing, Southwest Minnesota State University
Question and Answer
Question

Would you list some recent accomplishments?

Answer

Awards:


2012-13 Nominee: Minnesota Book Award, Los Angeles Review of Books First Fiction Award, and the PEN/Robert W. Bingham Prize, for Cul De Sac: Stories.

2009 Finalist, Flannery O'Connor Award, Short Fiction Collection. The University of Georgia Press.

2009 Nominee, Best New American Writers.

2009 Winner, 2008 Third Coast Creative Nonfiction Award.

2006-07 Winner, The Loft Mentor Series Award in Fiction

1999-2000 Winner, Student Senate Instructor of the Year, Pine Technical and Community College.

Publications:

Book


2012 Cul De Sac: Stories, fiction. Sententia Books, New York.


Periodicals


Sept. 2012 "Engravings," short story. Connotation press. (Featured writer. Interview and review also included).

Apr. 2012 "Writing Suburban Fiction: The Way of the Sac," essay. Necessary Fiction.

May 2010 "After the Lovin'," short story. Sententia.

June 2009 "How not to Write a Personal Essay for Freshman Composition," essay. Third Coast.

Mar. 2008 "The Absence or Addition of Fish," short story. Word Riot.

Oct. 2007 "Storage," short story. The Rake.

Oct. 2007 "Peckers," short story. Night Train. Issue #8.

Jan. 2005 "The Model Man," short story. Pindeldyboz. 17:3

2002-03 Pulp, monthly book review column. ETC Sioux Falls, South Dakota.

May 1997 "The Artificial Tourist: Exploring Mexico, Industrial Tourism, Banana Bread, and the Loss of Culture," essay. Minnesota River Review. Minnesota State University, Mankato.

Oct. 1995 "Life is Brutal and Full of Ambushes," feature essay. Minnesota Monthly Magazine. Minnesota Monthly Publications.


Mar. 1995 "For Jake's Sake," short story. Great River Review. Great River Review, Inc.V.25.

Question

What inspires you as a teacher?

Answer

My inspirations as a teacher and writer are mostly British comics such as Spike Milligan, Peter Cook and Monty Python, as well as stand-up comics (the lowest form of art). American writers who have inspired me: Edward Abbey, Flannery O'Connor and Raymond Carver, to name just a few (or three, to be exact). And I can't go a week without watching The Voice!

Question

How would you describe what happens during one of your most successful classes?

Question

What makes your curriculum interesting or valuable to students?

Answer

I write my curriculum the same as I write my own creative work, with a particular sideways twist, looking at the world in a different way (or many), with the purpose of challenging the way students think. It's never boring.

Question

How do you think students describe your teaching methods and classes?

Answer

Challenging, tiring, entertaining or both. Sometimes all three.

Question

What are some ways that you help students succeed when they need extra help?

Question

How do you help your students get the most out of your class?

Answer

Laugh at my jokes even if they aren't funny.

But I kid.

Laughter is the first rule, and if students learn along the way, which they will, because I command it, then so much the better.

Fun Facts
Fun Fact #1

I take care of a community of feral/stray cats.

Fun Fact #2

I take care of a community of over-spoiled domestic cats (and dogs), who are a lot less appreciative of their lot than the feral/stray cats.

Fun Fact #3

I love the rock and roll and especially the heavy metal.
Meet Our Students and Alumni
Student Carousel
Carousel Navigation
Carousel Slides
Meet Joshua Chase

Joshua Chase

Arts & Communication

Creative Writing

"The teachers are, hands down, the best part of Anoka-Ramsey. I've always read a lot, but while at Anoka-Ramsey, I had teachers who gave me entirely new perspectives on the writers and works I was already interested in. I always knew I liked certain authors, but couldn't really put my finger on why. After my time at Anoka-Ramsey, I had a much better understanding.

I spent a lot of time in the advising office. Having transferred many of my credits from a community college in Nevada, I wasn't really sure how to proceed in a new state with different graduation requirements."

Meet Jamie Haddox

Jamie Haddox

Arts & Communication

AA Creative Writing Emphasis

"Having taken creative writing classes at Anoka- Ramsey, I can honestly say that talent alone isn't enough, no matter how talented. There's so much I didn't know. I've also learned that part of writing is having a network. You'll never meet half the people you should without going to school."

Meet Javier Abrica

Javier Abrica

MnTC

Associate in Arts

"When I walked through the doors here, I knew this was the place to get started. I've enjoyed it here ever since. Being Hispanic I appreciate the diversity at Anoka-Ramsey. I have met people from all over the world. It's fun to have them share their cultures with me, and to see they have the same interests as I do."
Carousel Pagination