Profile - Paige Riehl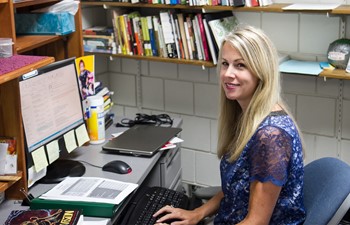 Instructor Profile
Meet Paige Riehl
Instructor of English
Master of Fine Arts (MFA) in Creative Writing - Poetry, Hamline University; Master of Arts (MA) in English, North Dakota State University; Bachelor of Science (BS) in Mass Communications (minor in Creative Writing), Minnesota State University Moorhead
Question and Answer
Question

Would you list some recent accomplishments?

Answer

Publications:

Suspension. Terrapin Books, 2018. (poetry collection)
Blood Ties. Finishing Line Press, 2014. (poetry chapbook)
Numerous poetry publications in journals and magazines such as Water-Stone Review, Crab Orchard Review, Portland Review, Meridian, South Dakota Review, Adirondack Review, Potomac Review, Nimrod International Journal, Paper Darts, Revolver, Thought & Action, Teaching English in the Two Year College, and many more.
Short story publication in Blood Orange Review and Avatar Review

Honors & Awards:


Finalist for the 2017 Lindquist & Vennum Prize for Poetry (Milkweed Editions) for her poetry manuscript formerly titled Wait and later published as Suspension.

Pushcart Prize Nominee (2016 edition)

Honorable Mention for the 2014 Hal Prize for "Perhaps the World Centers Here on the Ferry to Milos." (Published in Peninsula Pulse; judged by Heid Erdrich)

Loft Mentor Series in Poetry Winner, selected by poets Jude Nutter and Oliver de la Paz, 2012-2013

Winner of the 2011 Literal Latte Poetry Award for "Edie Watches the Tsunami from her Bed at Life Care Rehabilitation Center, Las Vegas, March 2011"

Semi-Finalist for the Pablo Neruda Prize for Poetry, sponsored by Nimrod International Journal (2011)

Semi-Finalist for the 2011 River Styx International Poetry Contest judged by B.H. Fairchild 

Editorial Experience:

Judge for the Saint Paul Sidewalk Poetry Contest (2015)

Poetry Editor for Midway Journal (since 2015)

Minnesota Prison Writing Workshop Poetry Mentor (since 2014)

Assistant Poetry Editor for Midway Journal (2014)

Initial Poetry Reader for 2014-2015 The Loft Mentor Series (Spring 2014)

Two-time Final Judge, Minnesota Book Awards

Poetry Board Editor, Water-Stone Review (2012)
Faculty Advisor, The Rapids Review (Literary Magazine at Anoka-Ramsey Community College 2001-2004)


Question

What is your approach to teaching?

Answer

Literature and writing have always been great joys in my life. Poetry, fiction and nonfiction are portals to other worlds where we can enter and experience, learn and expand ourselves. I am thrilled that my profession allows me to share my love of literature and writing with students, and I hope students leave my courses with a greater understanding of how literature and writing shape our world. I'm thrilled when a student discovers a love for books and writing.

Question

What inspires you as a teacher?

Answer

Great literature and the joy that comes from reading and writing great literature inspires me to teach, to write and to encourage others to write. There are so many wonderful books that I love--Vladimir Nabokov's Lolita (fiction) Elizabeth Strout's Olive Kitteridge (fiction), Harper Lee's To Kill a Mockingbird (fiction) and any poetry by Jude Nutter, Laura Kasischke, Jim Moore, Deborah Keenan and Linda Gregg; I could go on and on! I feel like every book I read shapes me in some capacity, whether it challenges my perceptions of genre boundaries, helps me understand a different culture or time or reveals insight about what it means to be a human in our ever-changing world.

Question

How would you describe what happens during one of your most successful classes?

Answer

My most successful classes are where the students and I engage openly and enthusiastically about the texts we're reading, where they speak up about their interpretations and observations. In creative writing classes, I appreciate when students come with a true desire to improve their writing and are open to the feedback from me and their peers. A willingness to revise is a sign of a true writer.

Question

What makes your curriculum interesting or valuable to students?

Answer

I'm dedicated to sharing a variety of perspectives in my courses, attempting to offer readings by male and female authors from different backgrounds. In all of my courses, we read high-quality published writing as examples to model. Great readers are more likely to become great writers.

I hope in creative writing classes students will learn to write and revise for a reader so that their work will move from the initial "trigger" subject to something bigger, an insight that a reader could appreciate. In literature classes, I hope we approach the texts with an open mind and a willingness to enter the text and learn from it. In all the classes, what we read will connect with and inspire what we write.

Question

How do you think students describe your teaching methods and classes?

Answer

Students typically say my instructions are clear, and I believe they find me approachable. They would likely say that deadlines are firm and paper length minimum and quality is important.

Question

What are some ways that you help students succeed when they need extra help?

Answer

I'm always available to answer questions and help students if they need it. I refer students to the Academic Support Center at times when student tutors could be of assistance. When possible, I often share successful student example papers from past semesters (with the students' permission), so current students can see what I'm looking for with an assignment.

Question

How do you help your students get the most out of your class?

Answer

I write a clear syllabus with course policies, goals and the daily timeline written in detail. I encourage students to have open discussion in class, ask me for assistance and at times work with other students to help each other understand the material.
Fun Facts
Fun Fact #1

I love to travel and have traveled in 18 countries, including South Korea, Spain, France, Greece, Australia, Mexico, Jamaica, Germany, Ireland, England, Scotland, Austria and more.

Fun Fact #2

One of my poems is stamped in sidewalks in several places around Saint Paul as a result of winning the Saint Paul Sidewalk Poetry contest a few years ago. The poem is called "Dragonfly."
Meet Our Students and Alumni
Student Carousel
Carousel Navigation
Carousel Slides
Meet Joshua Chase

Joshua Chase

Arts & Communication

Creative Writing

"The teachers are, hands down, the best part of Anoka-Ramsey. I've always read a lot, but while at Anoka-Ramsey, I had teachers who gave me entirely new perspectives on the writers and works I was already interested in. I always knew I liked certain authors, but couldn't really put my finger on why. After my time at Anoka-Ramsey, I had a much better understanding.

I spent a lot of time in the advising office. Having transferred many of my credits from a community college in Nevada, I wasn't really sure how to proceed in a new state with different graduation requirements."

Meet Jamie Haddox

Jamie Haddox

Arts & Communication

AA Creative Writing Emphasis

"Having taken creative writing classes at Anoka- Ramsey, I can honestly say that talent alone isn't enough, no matter how talented. There's so much I didn't know. I've also learned that part of writing is having a network. You'll never meet half the people you should without going to school."

Meet Javier Abrica

Javier Abrica

MnTC

Associate in Arts

"When I walked through the doors here, I knew this was the place to get started. I've enjoyed it here ever since. Being Hispanic I appreciate the diversity at Anoka-Ramsey. I have met people from all over the world. It's fun to have them share their cultures with me, and to see they have the same interests as I do."
Carousel Pagination