Profile - Melody L. Heide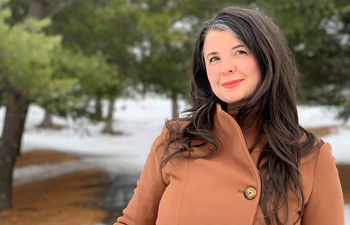 Instructor Profile
Meet Melody L. Heide
Instructor of English
Master of Fine Arts (MFA) in Creative Writing, Minnesota State University Mankato Bachelor of Science (BS) in English, North Central University
Question and Answer
Question

What is your approach to teaching?

Answer

I work from the perspective that there is still so much to learn, and I believe that communicating clearly and effectively is an ability that all need, no matter their lifestyle and career. I teach to help students become better writers and better communicators.

Question

What inspires you as a teacher?

Answer

I had many wonderful teachers as an undergraduate and graduate student. I am also inspired by the work my colleagues do--they are invested in continually working to improve the educational experience of students.

Question

How would you describe what happens during one of your most successful classes?

Answer

Whether online or seated, my most successful classes are the ones in which alchemy happens; this is generally during discussion times. We are all working together to dig deeper into the course content; to develop new ideas and new approaches to doing something.

Question

What makes your curriculum interesting or valuable to students?

Answer

I am continually working to update my readings to reflect the current climate. I also work to include assigned readings (articles, essays, etc.) that are written by undergrads so that students can see their peer's writing in action.

Question

How do you help students be successful in class?

Answer

If I notice a student hasn't been present or active or is struggling with a writing assignment, I reach out and ask how I can help them succeed in their goals. I keep in mind that the ultimate goal of my classes is to teach students to be better writers and thinkers and I ask myself continually, how can I help them achieve this?

Question

Would you list some of your publications?

Answer

"On Teaching Students to Love Their Darlings", Whale Road Review (forthcoming, December 2021) 

"On Continuing to Love and Support My Favorite Literary Journals That Have Rejected Me and Knowing When It's Time to Cancel", Brevity Magazine 

"First Gear", from the anthology Love and Profanity: A Collection of True, Tortured, Wild, Hilarious, Concise, and Intense Tales of Teenage Life 

"At Night, Cooking by the Garage", Switchback Magazine  

"BIN LADEN IS DEAD", Blue Lake Review 
Fun Facts
Fun Fact #1

I canoed the Mississippi River from Lake Itasca to the Iowa Border one summer. It took 30 days and definitely stretched me as a backwoods camper and canoeist!

Fun Fact #2

I grew up out east (NC, NY, NJ, and PA) and came out to Minnesota to go to college. I loved living out here so much that I decided to make my home here.

Fun Fact #3

I really enjoy traveling--some of my favorite places include Rome, Edinburgh, Paris, and Honolulu.
Meet Our Students and Alumni
Student Carousel
Carousel Navigation
Carousel Slides
Meet Joshua Chase

Joshua Chase

Arts & Communication

Creative Writing

"The teachers are, hands down, the best part of Anoka-Ramsey. I've always read a lot, but while at Anoka-Ramsey, I had teachers who gave me entirely new perspectives on the writers and works I was already interested in. I always knew I liked certain authors, but couldn't really put my finger on why. After my time at Anoka-Ramsey, I had a much better understanding.

I spent a lot of time in the advising office. Having transferred many of my credits from a community college in Nevada, I wasn't really sure how to proceed in a new state with different graduation requirements."

Meet Jamie Haddox

Jamie Haddox

Arts & Communication

AA Creative Writing Emphasis

"Having taken creative writing classes at Anoka- Ramsey, I can honestly say that talent alone isn't enough, no matter how talented. There's so much I didn't know. I've also learned that part of writing is having a network. You'll never meet half the people you should without going to school."

Meet Javier Abrica

Javier Abrica

MnTC

Associate in Arts

"When I walked through the doors here, I knew this was the place to get started. I've enjoyed it here ever since. Being Hispanic I appreciate the diversity at Anoka-Ramsey. I have met people from all over the world. It's fun to have them share their cultures with me, and to see they have the same interests as I do."
Carousel Pagination