Profile - Mary Bodelson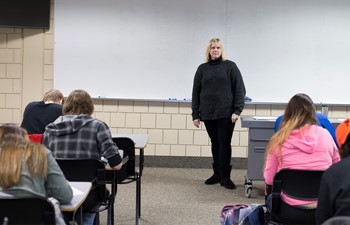 Instructor Profile
Meet Mary Bodelson
Instructor of English
Master of Arts (MA) in TESOL, Saint Cloud State University; Master of Arts (MA) in Rhetoric and Applied Writing, Saint Cloud State University; Bachelor of Arts (BA) in English Literature, Saint Cloud State University
Question and Answer
Question

Would you list some recent accomplishments?

Answer

Nominee Board of Trustees Educator of the Year 2016

The Fifth Biennial International Feminism and 

Rhetoric Conference- Houghton, MI Conference Presentation: "Introducing Feminist Pedagogy to 

College Composition Through Personal Writing, 

Argument, and Peer Review" 2005

Thesis: Integrating Feminist Pedagogy into the Composition Classroom

Question

What is your approach to teaching?

Answer

I believe in fostering a sense of community in the classroom; this leads to student comfort and understanding of concepts regardless of the type of obstacle the student may be facing. I am able to adapt my teaching style to assist various students in their specific areas of struggle.

Question

What inspires you as a teacher?

Answer

My students and their desire to learn are my major inspiration. Their willingness to work hard regardless of obstacles or challenging material inspires me to create a classroom that fosters their commitment to education.

Question

How would you describe what happens during one of your most successful classes?

Answer

My most successful classes are ones where students get involved and volunteer what they think about an issue being discussed. Every semester we do in class debates on very controversial topics, and I am always so pleased with my students' willingness to offer what they think about an issue, but also truly listen to what others have to say about that issue even if they disagree.

Question

What makes your curriculum interesting or valuable to students?

Answer

I try to stay relevant in my teacher so that my students can feel a connection to the readings, films, etc. For example, we do a film review, and students are able to choose their own film to review. For the major argumentative research paper, we have in class debates on current controversial issues, like abortion, legalization of marijuana and gun control.

Question

How do you think students describe your teaching methods and classes?

Answer

They would say she is challenging when it comes to grading, but she is willing to help if you are willing to seek out her help. I also think they would say there are fun activities in the class, but everything she does is connected back to skills she is trying to help us develop.

Question

What are some ways that you help students succeed when they need extra help?

Answer

I have face to face conferences where I meet with students one on one to discuss their writing in terms of improving it. I also am the Writing Center Liaison, so I encourage students to utilize the great services we offer there.

Question

How do you help your students get the most out of your class?

Answer

I try to always make sure to explain why we are doing what we are doing, so that they know there is a purpose behind it. So, when the eye rolls come, I can help them understand that it is a necessary activity.
Fun Facts
Fun Fact #1

I have an identical twin sister - we sound EXACTLY the same. Our husbands cannot tell our voices apart on the phone.

Fun Fact #2

I'm obsessed with television shows - all genres. My husband and I binge watch shows constantly.

Fun Fact #3

My husband's obsession with the British Premier League has made me a huge fan of Arsenal - the Gunners.
Meet Our Students and Alumni
Student Carousel
Carousel Navigation
Carousel Slides
Meet Joshua Chase

Joshua Chase

Arts & Communication

Creative Writing

"The teachers are, hands down, the best part of Anoka-Ramsey. I've always read a lot, but while at Anoka-Ramsey, I had teachers who gave me entirely new perspectives on the writers and works I was already interested in. I always knew I liked certain authors, but couldn't really put my finger on why. After my time at Anoka-Ramsey, I had a much better understanding.

I spent a lot of time in the advising office. Having transferred many of my credits from a community college in Nevada, I wasn't really sure how to proceed in a new state with different graduation requirements."

Meet Jamie Haddox

Jamie Haddox

Arts & Communication

AA Creative Writing Emphasis

"Having taken creative writing classes at Anoka- Ramsey, I can honestly say that talent alone isn't enough, no matter how talented. There's so much I didn't know. I've also learned that part of writing is having a network. You'll never meet half the people you should without going to school."

Meet Javier Abrica

Javier Abrica

MnTC

Associate in Arts

"When I walked through the doors here, I knew this was the place to get started. I've enjoyed it here ever since. Being Hispanic I appreciate the diversity at Anoka-Ramsey. I have met people from all over the world. It's fun to have them share their cultures with me, and to see they have the same interests as I do."
Carousel Pagination