Profile - Kelly Meyer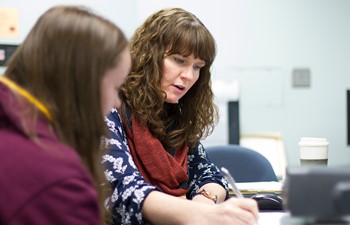 Instructor Profile
Meet Kelly Meyer
Instructor of English
Doctor of Philosophy (PhD) in English and the Teaching of English, Idaho State University; Master of Arts (MA) degree in Literature, Minnesota State University, Mankato; Bachelor of Arts (BA) in English, University of South Dakota
Question and Answer
Question

What is your approach to teaching?

Answer

As much as possible, I try to build concepts through texts of all types, examples that arise from students' worlds, and collaboratively constructed definitions that the class works through together. It's usually just a matter of time before we end up back at the idea of storytelling and trying to relate what we're doing, whether it's analysis or research or argument, to the instincts we have as humans to communicate by stories.

Question

How would you describe what happens during one of your most successful classes?

Answer

My favorite class session is when discussion runs wild in all the most illuminating ways and I only cover half of what I planned. Students often build connections in ways I don't anticipate or hadn't even thought of, and it's exhilarating to be a part of that.

Question

What makes your curriculum interesting or valuable to students?

Answer

Reading for class but also for pleasure; I love when students discover those can be one and the same.
Fun Facts
Fun Fact #1

I'm excited to find ways to root diverse literature even more firmly to my teaching. I'm in the midst of research to assess how literature can be a valuable pathway for students to prepare themselves for culturally rich futures.
Meet Our Students and Alumni
Student Carousel
Carousel Navigation
Carousel Slides
Meet Joshua Chase

Joshua Chase

Arts & Communication

Creative Writing

"The teachers are, hands down, the best part of Anoka-Ramsey. I've always read a lot, but while at Anoka-Ramsey, I had teachers who gave me entirely new perspectives on the writers and works I was already interested in. I always knew I liked certain authors, but couldn't really put my finger on why. After my time at Anoka-Ramsey, I had a much better understanding.

I spent a lot of time in the advising office. Having transferred many of my credits from a community college in Nevada, I wasn't really sure how to proceed in a new state with different graduation requirements."

Meet Jamie Haddox

Jamie Haddox

Arts & Communication

AA Creative Writing Emphasis

"Having taken creative writing classes at Anoka- Ramsey, I can honestly say that talent alone isn't enough, no matter how talented. There's so much I didn't know. I've also learned that part of writing is having a network. You'll never meet half the people you should without going to school."

Meet Javier Abrica

Javier Abrica

MnTC

Associate in Arts

"When I walked through the doors here, I knew this was the place to get started. I've enjoyed it here ever since. Being Hispanic I appreciate the diversity at Anoka-Ramsey. I have met people from all over the world. It's fun to have them share their cultures with me, and to see they have the same interests as I do."
Carousel Pagination