Profile - Kate Kysar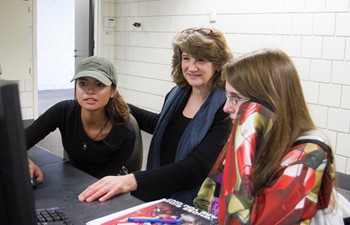 Instructor Profile
Meet Kate Kysar
Instructor of English
Masters of Fine Arts (MFA) in Creative Writing in Poetry, Wichita State University; Bachelors of Arts (BA) in English and Anthropology (minor in Sociology), Hamline University; Post-degree coursework at University of Pennsylvania, University of Minnesota, and Bemidji State University
Question and Answer
Question

What is your approach to teaching?

Answer

I love empowering my students to express their thoughts and feelings in writing and discover new worlds and ideas through literature.

Question

Would you list some recent accomplishments?

Answer

Book Publications

Pretend the World. Holy Cow! Press. 2011. Author. Poetry book
Riding Shotgun: Women Write about Their Mothers. Borealis Press. Minnesota Historical Society Press. 2008. Editor. Essays
Dark Lake. Loonfeather Press. 2002. Author. Poetry book

Recent Awards

Write On, Door County. Residency. January 2022.
Tofte Lake Center. Residency. June 2021.
Qu Yuan Poetry Contest. Minnesota China Friendship Society. July 2019.
Board of Trustees Award for Excellence in Teaching nominee. Minnesota State Colleges and
Universities. April 2017.
The Oberholtzer Foundation. Artist Residency. July 2016.

Recent Poem Publications

"Lake Superior: Three Scenes of Summer." About Place Journal. Spring 2022.
"After You Leave." Voicemail Poems. Spring 2022.
"My Identities" and "Nocturne." The Mollyhouse. Issue Four. Spring 2022.
"Photograph: Little League Practice." The Under Review. Winter 2022.

Recent Essay Publications

"Rollin' Round." Sleet. Summer 2022.
"Midway in Four Directions," Slang Glass City. Spring 2022.

Question

What inspires you as a teacher?

Answer

I am inspired by good books, the joy of the writing process, and the "aha!" moment when a concept becomes clear for students. I enjoy helping students shape their futures by exploring artistic and vocational career options.

Question

What makes your curriculum interesting or valuable to students?

Answer

Students enjoy experiential learning, so my classes explore ideas with films, guest speakers, and field trips as well as books and discussion. My classes often take a global perspective of contemporary topics and literatures.

Question

What are some ways that you help students succeed when they need extra help?

Answer

I work one-on-one with students in my office brainstorming ideas, reviewing their writing, and editing for clarify and correctness. I am available via phone, email, and Skype to ensure that my online students receive the same support. We make use of our wonderful writing centers too.
Fun Facts
Fun Fact #1

I love hiking in the woods of northern Minnesota.

Fun Fact #2

I once took the Trans-Siberian railway from Beijing to Moscow.

Fun Fact #3

I have worked at schools in China, Denmark, and Tanzania.
Meet Our Students and Alumni
Student Carousel
Carousel Navigation
Carousel Slides
Meet Joshua Chase

Joshua Chase

Arts & Communication

Creative Writing

"The teachers are, hands down, the best part of Anoka-Ramsey. I've always read a lot, but while at Anoka-Ramsey, I had teachers who gave me entirely new perspectives on the writers and works I was already interested in. I always knew I liked certain authors, but couldn't really put my finger on why. After my time at Anoka-Ramsey, I had a much better understanding.

I spent a lot of time in the advising office. Having transferred many of my credits from a community college in Nevada, I wasn't really sure how to proceed in a new state with different graduation requirements."

Meet Jamie Haddox

Jamie Haddox

Arts & Communication

AA Creative Writing Emphasis

"Having taken creative writing classes at Anoka- Ramsey, I can honestly say that talent alone isn't enough, no matter how talented. There's so much I didn't know. I've also learned that part of writing is having a network. You'll never meet half the people you should without going to school."

Meet Javier Abrica

Javier Abrica

MnTC

Associate in Arts

"When I walked through the doors here, I knew this was the place to get started. I've enjoyed it here ever since. Being Hispanic I appreciate the diversity at Anoka-Ramsey. I have met people from all over the world. It's fun to have them share their cultures with me, and to see they have the same interests as I do."
Carousel Pagination