Profile - Joe Erickson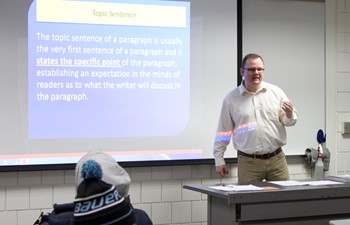 Instructor Profile
Meet Joe Erickson
Instructor of English
Doctor of Philosophy (PhD) in English, Bowling Green State University; Master of Arts (MA) in English, University of Minnesota Duluth; Bachelor of Arts (BA) in English, University of Minnesota Duluth; Associate of Arts (AA), Anoka-Ramsey Community College
Question and Answer
Question

Would you list some recent accomplishments?

Answer

Publications:

Roozen, Kevin and Joe Erickson. Expanding Literate Landscapes: Persons, Practices, and Sociohistoric Perspectives of Disciplinary Development. Logan, UT: Computers and Composition Digital Press/Utah State University Press, 2016. Web.

Roozen, Kevin and Joe Erickson. "Arranging American Literature, Crafting Creative Writing: Re-situating the Development of Practice. Enculturation, 17(2014). Web.

Erickson, Joe and Kris Blair. "The Ethos of Online Publishing: Building and Sustaining an Inclusive Future for Digital Scholarship." Online Credibility and Digital Ethos: Evaluating Computer-Mediated Communication. Ed. Shawn Apostle and Moe Folk. Hershey, PA: IGI Global, 2013. 78-93. Print. 

Question

What is your approach to teaching?

Answer

I believe in collaborative learning that allows students and teachers to co-create knowledge and understanding together. Working within this collaborative framework, I try to help students see writing as a means of attaining agency over their emerging professional identities. I, therefore, strive to create opportunities for students to practice multiple forms of writing in my classes to help them develop skills that will empower them in their efforts to join and promote change within the communities they encounter as emerging professionals.

As a teacher, I am a student of my students. As I teach them, I learn from them. They inspire my work this way.

Question

What inspires you as a teacher?

Answer

My students inspire me. I look forward to meeting each new group of students every semester because I love hearing about their goals, ambitions and dreams. As a former community college student myself, I can't help but become excited for my students as they begin the same educational journey I began so many years ago. 

Question

How would you describe what happens during one of your most successful classes?

Answer

When everyone is so motivated to contribute to a class discussion that I have to scrap my class plan so we can talk a little longer, that's a successful class period.  

Question

How do you help your students get the most out of your class?

Answer

I always begin each new semester by learning as much as I can about my students. I ask them about their current interests and concerns, and I also try to learn about their long term goals so that I can start each semester from a point of departure where students are comfortable and steer our work together toward outcomes that support their goals.
Fun Facts
Fun Fact #1

I was blind for the first two years of my life because of problems with the nerves that control the movement of my eyes. I have had two surgeries since I was born to correct this problem, and now I can see very well out of one of my eyes but not the other.
Meet Our Students and Alumni
Student Carousel
Carousel Navigation
Carousel Slides
Meet Joshua Chase

Joshua Chase

Arts & Communication

Creative Writing

"The teachers are, hands down, the best part of Anoka-Ramsey. I've always read a lot, but while at Anoka-Ramsey, I had teachers who gave me entirely new perspectives on the writers and works I was already interested in. I always knew I liked certain authors, but couldn't really put my finger on why. After my time at Anoka-Ramsey, I had a much better understanding.

I spent a lot of time in the advising office. Having transferred many of my credits from a community college in Nevada, I wasn't really sure how to proceed in a new state with different graduation requirements."

Meet Jamie Haddox

Jamie Haddox

Arts & Communication

AA Creative Writing Emphasis

"Having taken creative writing classes at Anoka- Ramsey, I can honestly say that talent alone isn't enough, no matter how talented. There's so much I didn't know. I've also learned that part of writing is having a network. You'll never meet half the people you should without going to school."

Meet Javier Abrica

Javier Abrica

MnTC

Associate in Arts

"When I walked through the doors here, I knew this was the place to get started. I've enjoyed it here ever since. Being Hispanic I appreciate the diversity at Anoka-Ramsey. I have met people from all over the world. It's fun to have them share their cultures with me, and to see they have the same interests as I do."
Carousel Pagination