Profile - Catherine Bean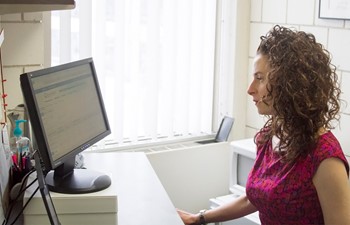 Instructor Profile
Meet Catherine Bean
Instructor of English
Master of Arts (MA) in English - Film and Contemporary American Literature Studies, University of Florida; Bachelor of Arts (BA) in English - Film and Contemporary American Literature Studies, University of Florida
Question and Answer
Question

What is your approach to teaching?

Answer

Students are my priority. Their understanding and learning of the subject matter we're studying is of utmost importance to me, every single day. If students finish my courses being able to think critically and write clearly and effectively, then I consider my teaching to be a success.

Question

What inspires you as a teacher?

Answer

My students continually inspire me to deliver the best instruction that I can to them, all the while striving to do so in an interesting, engaging manner.

Question

How would you describe what happens during one of your most successful classes?

Answer

Students tell me that their favorite parts of our course are our discussions, because they get to share their own ideas, as well as hear the ideas of others, which often makes them think about things in a new way, or see things from a different point-of-view, thus broadening their own mental landscapes.

Question

What makes your curriculum interesting or valuable to students?

Answer

Through studying popular culture, including literature, advertisement, television, life online, popular music and films, my students and I are always thinking about, discussing and writing about topics of contemporary interest, which makes learning about literature, writing and film studies even more interesting and relevant.

Question

How do you think students describe your teaching methods and classes?

Answer

My courses are very intellectually rigorous and challenging. Students are expected to be prepared for our coursework by doing their assigned reading and writing, as well as to participate actively in all class activities. Students develop their skills through personal responsibility and accountability, active engagement with what we're studying, and demonstrated mastery of our subject matter.

Students who want to be challenged--and feel the reward of taking on those challenges--will be successful, and leave our course with lifelong critical thinking and writing skills that are applicable to other courses, multiple careers, and nearly every real-life situation they'll encounter.
Fun Facts
Fun Fact #1

The things that I teach are also the things that I enjoy doing when not at work. Reading and watching films make up a lot of my free time, so my intellectual passions play out on-the-job and at home.

Fun Fact #2

Health and wellness are huge components of my life. Every single day, I either do a formal cardio or weightlifting workout, or engage in less structured activity, including bike riding and, especially, walking outdoors.

Fun Fact #3

My health and wellness interests extend to my love of cooking. I follow a completely plant-strong, vegan diet and am always making delicious meals for myself and my loved ones.
Meet Our Students and Alumni
Student Carousel
Carousel Navigation
Carousel Slides
Meet Joshua Chase

Joshua Chase

Arts & Communication

Creative Writing

"The teachers are, hands down, the best part of Anoka-Ramsey. I've always read a lot, but while at Anoka-Ramsey, I had teachers who gave me entirely new perspectives on the writers and works I was already interested in. I always knew I liked certain authors, but couldn't really put my finger on why. After my time at Anoka-Ramsey, I had a much better understanding.

I spent a lot of time in the advising office. Having transferred many of my credits from a community college in Nevada, I wasn't really sure how to proceed in a new state with different graduation requirements."

Meet Jamie Haddox

Jamie Haddox

Arts & Communication

AA Creative Writing Emphasis

"Having taken creative writing classes at Anoka- Ramsey, I can honestly say that talent alone isn't enough, no matter how talented. There's so much I didn't know. I've also learned that part of writing is having a network. You'll never meet half the people you should without going to school."

Meet Javier Abrica

Javier Abrica

MnTC

Associate in Arts

"When I walked through the doors here, I knew this was the place to get started. I've enjoyed it here ever since. Being Hispanic I appreciate the diversity at Anoka-Ramsey. I have met people from all over the world. It's fun to have them share their cultures with me, and to see they have the same interests as I do."
Carousel Pagination