Profile - Drew Mattson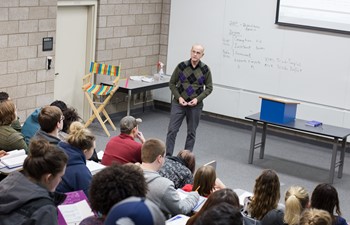 Instructor Profile
Meet Drew Mattson
Instructor of Economics
Drew Mattson has been teaching at Anoka-Ramsey since 1980 . He has received awards and recognition from The Joint Council on Economic Education and Minnesota Economics Association as well as being awarded the Master Teacher designation from the National Institute for Staff and Organizational Development at the University of Texas in Austin. He and has holds bachelor in arts, master in arts, and MBA degrees.
Question and Answer
Question

What experience do you have outside of teaching in economics?

Answer

I have corporate experience as well as experience as a Senior Economic Analyst for the State of Minnesota.  

Question

Do you do research?

Answer

My current research interests are in international development with a special focus on the plight of children in developing nations. In response to my concerns about those children, I helped set up a non-profit charity in 1999 which helps fund education, health care, food and housing for at-risk children in Guatemala.   

I have also published many articles on economic education and also research on alternative energy potential in Minnesota.
Fun Facts
Fun Fact

Drew has been a leader in online economics instruction pioneering the trend in the community college system in Minnesota. Today, the online courses are the first to fill every semester. He has also been active in the community appearing on local television newscasts discussing current issues of special concern to those living in the Northwest Suburbs of Minneapolis.  
Meet Our Students and Alumni
Student Carousel
Carousel Navigation
Carousel Slides
Meet Amy Anderson

Amy Anderson

Business

AS Marketing & Management

"In the Business program I learned so much more than just the skills that employers are looking for. I learned the ability to exceed employers' expectations as well as your own!"

Meet Angela Kealey

Angela Kealey

MnTC

Associate in Arts

"Deciding to attend Anoka-Ramsey was one of the best decisions I ever made. I received my two-year degree with the lowest tuition in Minnesota and with a very flexible class schedule. I also gained hands-on experience through Phi Theta Kappa, which has strengthened my academic studies."

Meet Mei Luu

Mei Luu

MnTC

Generals & Transfer

"My TRIO SSS advisor always gave me professional assistance and personal encouragement throughout the years. I still feel a welcoming atmosphere every time I visit the TRIO SSS office. When I was a student at Anoka-Ramsey, my advisor helped me create my study plan so I could achieve my bachelor's degree efficiently. I am very thankful for all their help, support and services. TRIO SSS is a valuable program that we have on-campus."
Carousel Pagination