Profile - LaShaunda Newsom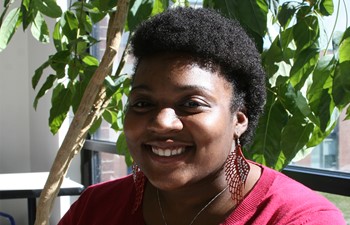 Student Profile
Meet LaShaunda Newsom
Biology program
Question and Answer
Question

What would you say to a person considering attending Anoka-Ramsey?

Answer

Do your research and really consider is this the right school for you. I'd also mention the advantages of Anoka-Ramsey: lowest tuition in Minnesota, the Health & Wellness facility, the activities that are offered to students and the resources like free tutoring, walk-in advising, etc.

Question

What advice would you give other student?

Answer

Let your voice be heard by asking for help when you need it. Sometimes help from others is all someone needs to overcome their obstacles. And don't not those challenges or obstacles weigh you down or conquer you. Keep fighting until you overcome anything that stands in your way.
Fun Facts
Fast Fact #1

LaShaunda's dream is to be successful in college, all the way through medical school, become a doctor and maybe having her own practice.

Fast Fact #2

LaShaunda's dream job is to be either an anesthesiologist or a surgeon.
Meet Our Students and Alumni
Student Carousel
Carousel Navigation
Carousel Slides
Meet Anna Pescola

Anna Pescola

Natural Sciences

AS Environmental Science

"The approachable faculty is the main contributor to my success as a student. I took mostly STEM core classes where the classes were small, but the content could get pretty heavy. Every professor I had made me feel comfortable visiting their office to get help."

Meet LaShaunda Newsom

LaShaunda Newsom

Natural Sciences

AS Biological Science

"Anoka-Ramsey has so many resources and the instructors are very helpful. The majority of my instructors were great but the one that sticks out the most is Jennifer Braido. She's awesome and helpful."

Meet Jeanne Wigant

Jeanne Wigant

Natural Sciences

AS Biology

"The value of education received at Anoka-Ramsey is incomparable. As an adult learner with a family and financial obligations, I absolutely would not have been able to accomplish my ultimate goal of becoming a physician had it not been for my experience at Anoka-Ramsey."
Carousel Pagination