Profile - Scott Danneman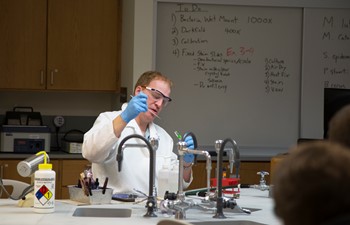 Instructor Profile
Meet Scott Danneman
Instructor of Biology
Master of Science (MS) in Biology; Bachelor of Science (BS) in Biology
Question and Answer
Question

Would you list some recent accomplishments?

Answer

Identification of Yeast and Yeast-Like Fungal Species in the Upper Midwest Using Physiological and DNA Sequence Data

International Wolf Symposium

National Conferences on Undergraduate Research (NCUR)

Community College Undergraduate Research Initiative (CCURI)

Active student research working toward publication

Question

What is your approach to teaching?

Answer

Learning is a lifelong commitment, and I seek to support that by teaching students how to learn using as many different learning styles as I can.

Question

How would you describe what happens during one of your most successful classes?

Answer

I feel my class has been most productive when students ask questions during and after class. If students are not asking questions, I am not getting them engaged in the class.

 

Question

What makes your curriculum interesting or valuable to students?

Answer

Biology impacts every part of our lives whether we know it or not. Many times when they first notice this, they become very fascinated.

Students love when I engage them in my active research. They see that biology can be relevant and interesting.

Question

What are some ways that you help students succeed when they need extra help?

Answer

Many times, students do not know there are different ways to study for different people. I often find it helps for a student to find their learning style and learn to use it.
Fun Facts
Fun Fact #1

I love snowboarding whenever I get the chance.

Fun Fact #2

I have been to all 50 states.
Meet Our Students and Alumni
Student Carousel
Carousel Navigation
Carousel Slides
Meet Anna Pescola

Anna Pescola

Natural Sciences

AS Environmental Science

"The approachable faculty is the main contributor to my success as a student. I took mostly STEM core classes where the classes were small, but the content could get pretty heavy. Every professor I had made me feel comfortable visiting their office to get help."

Meet LaShaunda Newsom

LaShaunda Newsom

Natural Sciences

AS Biological Science

"Anoka-Ramsey has so many resources and the instructors are very helpful. The majority of my instructors were great but the one that sticks out the most is Jennifer Braido. She's awesome and helpful."

Meet Jeanne Wigant

Jeanne Wigant

Natural Sciences

AS Biology

"The value of education received at Anoka-Ramsey is incomparable. As an adult learner with a family and financial obligations, I absolutely would not have been able to accomplish my ultimate goal of becoming a physician had it not been for my experience at Anoka-Ramsey."
Carousel Pagination