Profile - Peggy (Margaret) Guiney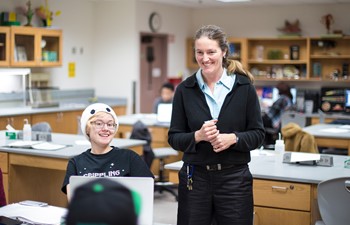 Instructor Profile
Meet Peggy (Margaret) Guiney
Instructor of Biology
Doctor of Philosophy (PhD) degree in Conservation Biology, University of Minnesota; Master of Science (MS) degree in Conservation Biology, University of Minnesota; Bachelor of Science (BS) degree in Biology, Concordia College, Moorhead, Minnesota
Question and Answer
Question

Would you list some recent accomplishments?

Answer

Guiney, M.S., D.A. Andow, and T.T. Wilder. 2010. Metapopulation Structure and Dynamics of an Endangered Butterfly. Basic and Applied Ecology. 11(4):354-362.

Guiney, M.S., D.A. Andow, S.J. Weller, and G.P. Setliff. 2010. An unusual wing color of a female Karner blue butterfly, Lycaeides melissa samuelis (Lycaenidae) in Minnesota. Journal of the Lepidopterists' Society.

Guiney, M.S., and K.S. Oberhauser. 2009. Conservation volunteers' connection to nature. Ecopsychology. 1(4):187-197.

Guiney, M. S., and K.S. Oberhauser. 2009. Insects as Flagship Conservation Species. Terrestrial Arthropod Reviews. 1(2): 111-123.

Guiney, M.S., and D.A. Andow. 2009. Long lifetime of a male Karner Blue Butterfly, Lycaeides melissa samuelis (Lycaenidae) in Minnesota. Entomological News.
120(1):107-108.

Savanick, M.A., and R.B. Blair. 2005. Assessing the need for Master Naturalist programs. Journal of Extension. 43(3): Article 3FEA7 http://www.joe.org/joe/2005june/a7.shtml

Question

What is your approach to teaching?

Answer

In every course I teach, I aim to help my students become active, lifelong learners. To engage students, I emphasize the themes of observation, relevance and reflection. Throughout my life, as both a student and a teacher, I have learned best through exploration and discovery.

Question

What inspires you as a teacher?

Answer

Lately I have really enjoyed the book, Learning to Learn by Barbara Oakley. It has great tips and helps explain how the brain work and how students can study effectively and efficiently.

Question

How would you describe what happens during one of your most successful classes?

Answer

In the First Year Experience class, I organized activities to help students reflect and implement strategies to help them succeed in college. For example, the "28 Day Commitment" assignment involved students committing to a specific daily goal (ie studying for at least one hour per day, eliminating distractions when studying or consistently writing assignment due dates in a daily planner) for 32 days. Many students found that this exercise helped them improve their study habits and raise their course grades. During this exercise, one student who had previously struggled to complete her course work on time, came to class with several assignments completed. In a reflection assignment, she enthusiastically noted how she had she had "found the library," a space where she could focus and enjoy studying.

Question

What makes your curriculum interesting or valuable to students?

Answer

Regardless of the specific topic, from genetics to environmental ethics, I encourage students to recognize that learning about biology can also result in valuable insights about themselves and society.

Question

How do you think students describe your teaching methods and classes?

Answer

I provide a lot of information and allow students to discuss ideas about the information during class.

Question

What are some ways that you help students succeed when they need extra help?

Answer

I encourage students to stop by during office hours, visit the academic support center and create study groups.

Question

How do you help your students get the most out of your class?

Answer

I include questions during lecture and have students share ideas with neighbors. This allows students to think and share what they think with me and other students.
Fun Facts
Fun Fact #1

I enjoy skijoring with my dog, Kenai (a lab, husky, shepard mix).

Fun Fact #2

I spent 22 consecutive years vacationing in the Boundary Waters Canoe Area Wilderness, starting at the age of two.

Fun Fact #3

I have climbed the Grand Teton and Gannett Peak in Wyoming.
Meet Our Students and Alumni
Student Carousel
Carousel Navigation
Carousel Slides
Meet Anna Pescola

Anna Pescola

Natural Sciences

AS Environmental Science

"The approachable faculty is the main contributor to my success as a student. I took mostly STEM core classes where the classes were small, but the content could get pretty heavy. Every professor I had made me feel comfortable visiting their office to get help."

Meet LaShaunda Newsom

LaShaunda Newsom

Natural Sciences

AS Biological Science

"Anoka-Ramsey has so many resources and the instructors are very helpful. The majority of my instructors were great but the one that sticks out the most is Jennifer Braido. She's awesome and helpful."

Meet Jeanne Wigant

Jeanne Wigant

Natural Sciences

AS Biology

"The value of education received at Anoka-Ramsey is incomparable. As an adult learner with a family and financial obligations, I absolutely would not have been able to accomplish my ultimate goal of becoming a physician had it not been for my experience at Anoka-Ramsey."
Carousel Pagination